Trump-Netanyahu love is unlikely to last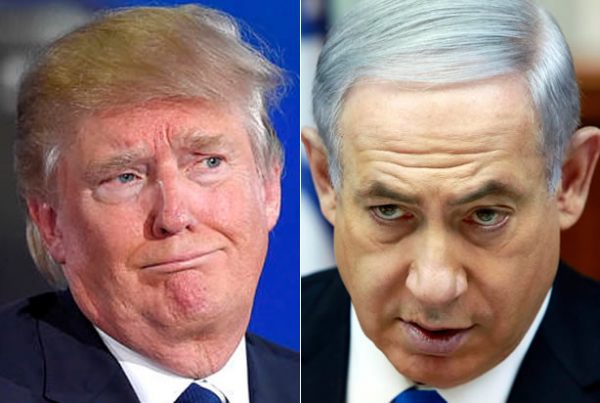 By: Noga Tarnopolsky
As they prepare to meet for the first time since Donald Trump became president, the similarities between Israeli Prime Minister Benjamin Netanyahu and the new American head of state have become too tempting for pundits to resist. "How Will America Look After Years of Trump and Bannon? See: Israel" – and variations thereof – have become ubiquitous headlines here.
Both leaders are facing crises that are destabilizing their administrations. U.S. National Security Adviser Michael Flynn resigned on Monday after 24 days on the job. Netanyahu is confronting a mounting corruption investigation for which he has been interrogated by the police, and which may threaten his political future.
Many in Israel feel that for Netanyahu, whose ability to pull himself out of delicate situations at the last moment has earned him the nickname "the magician," the game may be up.
A single overriding interest connects Netanyahu and Trump as they meet on Wednesday: to demonstrate that eight years of Obama-era tension between the countries' leaders are over.
Netanyahu has been vague about his expectations in advance of the trip. On the tarmac before departing, he said that he'd "lead and navigate… lead and navigate" the crucial Israel-U.S. relationship, and that he and Trump "see eye to eye on the dangers emanating from the region but also on the opportunities."
Both parties need this summit to succeed. Netanyahu is unlikely to press Trump about his campaign promise to undo the nuclear deal with Iran (which Netanyahu abhors), or to move America's embassy from Tel Aviv to Jerusalem.
Israel's expanding West Bank settlements, which provoked fury from the Obama administration and created tension between Washington and Israel's lawmakers, are also not expected to be high up on the agenda.
Instead, Netanyahu is expected to bring up a softball subject the two men can agree on, and use to burnish their diplomatic bona fides: Iran as a regional menace.
Trump's robust if controversial relationship with Russian President Vladimir Putin provides Netanyahu with the opportunity to put Israel's northern border on the table. As Islamic State has been pushed back by allied bombardments, Syria's depleted army has not been able to cover the positions along its border with Israel. As a result, the elite forces of Iran's Revolutionary Guard Corps have stepped in, creeping close to major Israeli population centers.
Netanyahu is likely to ask for guarantees that the United States will rein in Russia – and its proxy, Iran – on the shared Golan Heights border area, and may even press Congressional leaders for new sanctions against Iran.
This would provide Trump with an opportunity to prove that he is not beholden to Putin, while at the same time showing that his tough talk against Islamic regimes is backed up by action.
As for Netanyahu, after the photo-ops displaying him in the familiar splendor of a White House visit, he will return to an increasingly restive Israel. He is viewed here with either pride or exasperation, as something of a proto-Trump. He is a man given to preening and transgressive statements, whose success has repeatedly baffled the media.
After months of hearing Netanyahu praise the Trump administration, Israelis have been sufficiently unsettled by the president's chaotic first month in office that a new sort of headline has started to appear.
The Jerusalem Post's signed editorial on the eve of Netanyahu's departure for Washington had the headline: "Which Trump will Netanyahu Meet on Wednesday?" It warned, as did an editorial in Haaretz, that an unpredictable Trump holds almost all of the cards.
"The U.S. president could give Netanyahu backing, or whip up a storm," Haaretz editor-in-chief Aluf Benn wrote. "In either case, the premier will from now on be judged by his good behavior and flattery vis-à-vis Trump."
If Netanyahu survives his scandals, and if Trump survives his, at least one vital question will stand: What can these two dealmakers do together? For Netanyahu, stasis would be a victory. He would remain in power, the Palestinian Authority would remain one of the quietest spots in the Middle East and he would keep promising West Bank settlers more building rights without ever fully determining their fate.
But Trump may not have it. Three days after winning office, he told the Wall Street Journal that making peace between Israel and Palestine would be"the ultimate deal." Referring to the conflict as "the war that never ends," he said, "as a dealmaker, I'd like to do…the deal that can't be made. And do it for humanity's sake."
That is why, despite the proximity of this summit to Valentine's Day, few seasoned observers expect the love to last.
ABOUT THE AUTHOR
Noga Tarnopolsky has covered the Israeli-Palestinian conflict and US-Israeli relations for more than twenty years. Her work has been published in the New York Times, the New Yorker, and the Washington Post, among other publications.
REUTERS