Trump fired Flynn over eroding trust: White House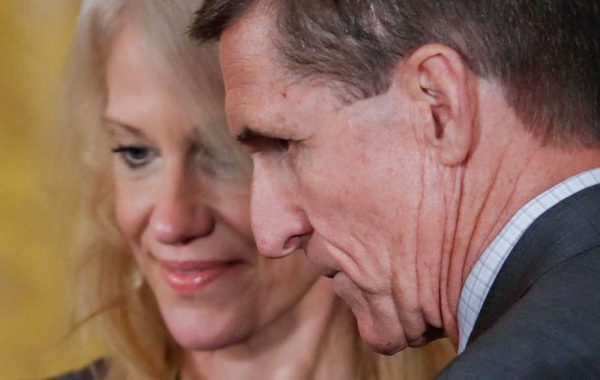 President Trump asked Michael Flynn to resign as national security adviser because of eroding trust —not because he violated the law, the White House said Tuesday.
In a briefing dominated by questions about Flynn, press secretary Sean Spicer repeatedly said the former national security adviser had done nothing wrong in talking to counterparts around the world, including from Russia.
He said Trump had fired Flynn not because of those conversations, but because Trump felt that his trust in Flynn had "eroded."
"There is not a legal issue but rather a trust issue," Spicer said, adding the circumstances surrounding Flynn's talks with Russia created a "critical mass and an unsustainable situation."
Spicer's comments indicated Flynn's ouster was driven by Trump's frustration that the adviser had misled Vice President Pence and others and not the fact he discussed sanctions with Russian envoy Sergey Kislyak.
While Monday's briefing was intended to tamp down the controversy surrounding Flynn, it highlighted lingering questions about Trump's posture toward Russia and why he didn't act sooner to address the crisis.
In his own resignation letter on Monday, Flynn apologized for giving an inaccurate assessment of his conversation with Russia's ambassador to the United States to Pence, then the vice president-elect.
Flynn's conversation with Pence led the vice president to go on television and say that Flynn had not discussed the issue of sanctions on Russia with the ambassador.
But top officials with the FBI and other intelligence agencies had information that Flynn had discussed sanctions with Russia. The Justice Department relayed that information to the White House weeks ago.
The news that Flynn had misled Pence about his conversations appeared to doom Flynn in the White House.
But Democrats and some Republicans say a much broader investigation is now necessary to look into Flynn's contacts with Russia, which has been accused of interfering in the U.S. presidential election to hurt Democrat Hillary Clinton.
Democrats are also raising questions about why the White House did not immediately remove Flynn from office after first learning he had misled Pence and had discussed sanctions with Russia.
Spicer at times appeared to be battling against those calls on Tuesday as he repeatedly said Flynn had not done anything wrong in holding his conversations with officials from Russia and other countries before Trump's inauguration.
Spicer said former acting attorney general Sally Yates had warned White House Counsel Don McGahn about the possible discrepancies in Flynn's story in January and that McGahn briefed the president and his aides about the situation.
On Friday, Trump told reporters that he was unaware of The Washington Post's story asserting that Flynn had in fact discussed those sanctions with the ambassador.
"What he was asked specifically was if he was aware of The Washington Post story, he hadn't seen that at the time. Of course he was aware of the situation," Spicer said when asked about that point a few minutes later.
Earlier Tuesday, Trump senior counselor Kellyanne Conway lied again when she implied that Flynn's decision to resign was his.
"Mike Flynn had decided it was best to resign," she said in an interview with NBC's "Today" show. "He knew he had become a lighting rod and he made that decision."
THE HILL