Demonstrators at New York's JKF airport protest against Trump's Muslim ban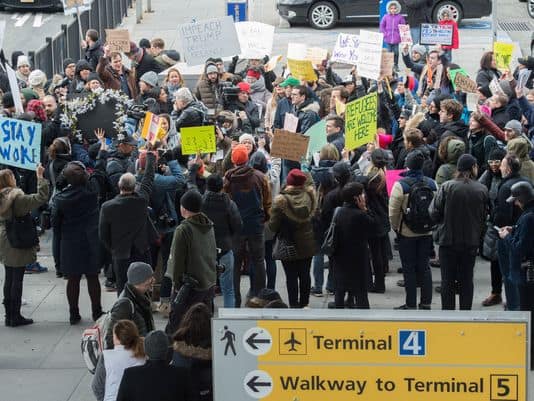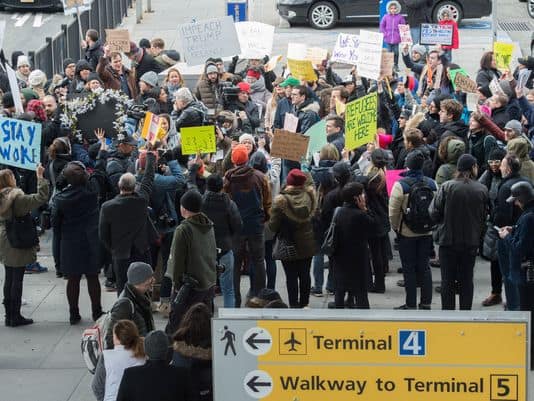 Demonstrators gathered at Terminal 4 of JFK Airport Saturday to protest President Donald Trump's executive order that ban citizens from seven Muslim-majority countries and Syrian refugees from entering the U.S.
The emergency protest was organized outside of the international arrivals area of the terminal. Protesters began rallying about 11 a.m. and held up signs that read, "Legal Visas = Let Them In," "Let my friends in," "No ban, no wall," and "Refugees ar
The handful of protesters quickly grew to more than 100 as people took to social media to spread the word about the demonstration. Organizations including AFT Union and New York Taxi Workers Alliance publicly announced their support for the protest.
"Our 19,000-member-strong union stands firmly opposed to Donald Trump's Muslim ban. As an organization whose membership is largely Muslim, a workforce that's almost universally immigrant, and a working-class movement that is rooted in the defense of the oppressed, we say no to this inhumane and unconstitutional ban," the NYTWA said in a statement.
"We stand in solidarity with all protesting at JFK #Terminal4 & airports across the country. We are a country of immigrants, we stand together," AFT union wrote on Twitter.
Another protest at Terminal 4 is expected to take place about 6 p.m., according to AFT Union.
Earlier, lawyers representing two Iraqi refugees who were detained at the airport filed a motion to have them released. The refugees, who both have U.S. visas, were detained late Friday night when Trump's executive order went into effect.
One of the refugees was released Saturday afternoon. Eleven refugees are still being held at JFK airport, Rep. Jerry Nadler said.
Gov. Andrew Cuomo released a statement on the refugee detainment, saying, "We are a nation of bridges, not walls."
"I never thought I'd see the day when refugees who have fled war-torn countries in search of a better life, would be turned away at our doorstep. We are a nation of bridges, not walls, and a great many of us still believe the words 'give me your tired, your poor, your huddled masses…' This is not who we are and not who we should be."
Trump signed the executive order Friday afternoon that banned refugees from entering the U.S. for 120 days and ones coming from war-torn Syria indefinitely. Citizens from seven Muslim countries — Iran, Iraq, Libya, Somalia, Sudan Syria and Yemen — are refused entry to the U.S. for 90 days.
Though the ban is temporarily, Trump can extend if after it expires.
Immediately after the executive order went into effect, immigrants who were in flight to the U.S. were detained at airports nationwide. Five people heading to JFK airport were were stopped from boarding their flight in Cairo, Egypt Friday night. They will return to Iraq, Cairo airport officials said to the Associated Press.