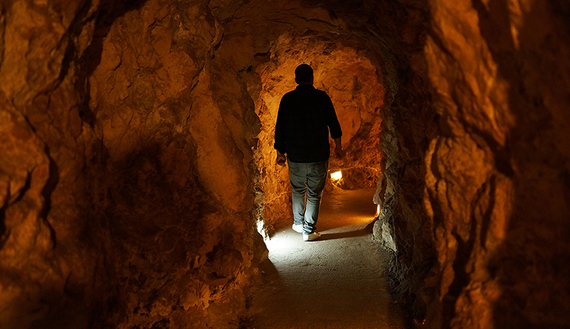 Israel is planning its strategy to counter Hezbollah's tunnel systems and projected strategy of rapidly invading Israeli territory at the onset of hostilities to project a picture of victory by taking a community or IDF outpost, Israeli website YNET reported on Monday
According to the report , 2 major changes are shaping the IDF's preparations for a possible third Lebanon war: First, the army is training designated forces for ground maneuvers to fight entire companies or platoons of Hezbollah fighters that infiltrate Israeli territory. Second, it is training brigades to effectively and proficiently destroy Hezbollah's tunnel strategy.The first approach reportedly entirely changes the outlook of battalion commanders, brigade commanders and thousands of combat soldiers for the next war. The traditional doctrine of rapid mobilization and entry into enemy territory in order to force surrender or defeat has been adopted by Hezbollah's battle plan.
The IDF believes that Hezbollah's Radwan Forces will attempt to infiltrate Israel in the early stages of a future war and attempt to paint a portrait of victory by planting the Hezbollah flag over an Israeli community or an IDF outpost along the border, the report added.
In recent weeks, the IDF has conducted several brigade exercises in order to reinforce changes in military doctrine for a fight against Hezbollah. For example, Nahal Brigade infantry forces were integrated into an exercise with the 401st Armored Brigade wherein a defensive war simulation in the north was conducted, Ynet reported continued to say
According to Israeli commanders, the scenario simulated included a force of Hezbollah fighters attempting to invade Israeli territory and the combined IDF force was to reinforce border communities, conduct ambushes at strategic points, conduct tactical deception, contain and secure the area and eliminate the enemy force.
"The enemy's offensive capabilities have improved," said a senior IDF officer with the 162nd Division. "Brigade commanders were defensively spread out with soldiers before they even reached the simulation area. Such a move gives flexibility to the division, which is responsible for the defense of the area and allows us to correct defensive vulnerabilities. Today, battalions realize they will immediately be playing defense regardless of fire or approval to maneuver, " the report added.
IDF assessments today are that while Hezbollah hasn't dug tunnels crossing the border into Israel like Hamas, they've definitely built infrastructure and fighting tunnels in and around Shiite villages in southern Lebanon.
The coordination of infantry forces with armor and engineering units is based on the principle of "location, insulation, destruction." Ynet added.
"Today, every brigade force includes at least one engineering platoon with heavy equipment such as the D9," explained the officer. "The best way to deal with a tunnel is to neutralize it without entering it. In the north, we see anti-tank missiles as a bigger threat than tunnels." Ynet added.
In regards to the amount of changes to brigades in the next war and the new defensive tactics, the officer said, "An operative plan is in the works. We are practicing logic and competencies and short battles. You plan 12-24 hours in advance and not days in advance. I explain to commanders that the war begins defensively and we should practice routine defense before moving attack, which is good because it is an intermediate step before people can throw a grenade or fire a shell without permission, " the report concluded.
Israel has been targeting Hezbollah in Syria . Several surface-to-surface missiles targeted Hezbollah's targeting Hezbollah sites near the Syrian capital, in the Zabadani area last December. Another attack had been reported Nov. 30, on an arms convoy near Damascus. Hezbollah sent thousands of its fighters to Syria to help the regime of president Bashar al Assad in its fight against the rebels . The strikes are indicative of the long-running covert war between Hezbollah and Israel.
"Israel has made it clear that it won't accept Hezbollah's attempts to acquire what is defined by Israel as 'balance breaking' weapons, such as weapons of mass destruction, advanced ground-to-air missiles, etc, " Avi Melamed, an Israeli affairs expert at the Eisenhower Institute in Washington, told Al-Monitor last December
Hezbollah has remained mum about the recent Israeli operations. The organization had replied in restrained fashion to previous strikes, the boldest retaliation without a doubt following son of Hezbollah commander Imad Mughniyeh's killing, when it targeted an Israeli border patrol with an improvised explosive device, killing two soldiers in the Shebaa Farms area.
But "Given the current conditions prevailing in Syria and Lebanon and taking into consideration the interests and factors involved, the likelihood of a massive Israeli-Hezbollah confrontation in the foreseeable future appears to be low," Melamed assessed.
According to Gen. Amin Hoteit, a Lebanese military expert, the elements that could lead to a military operation against Hezbollah appear to be missing. "The guarantee of a successful mission, the possibility to strike and more importantly to translate a victory on the political scene are not available on the Israeli side," he explained.