Aoun's Gulf tour: Qatar vowed to help resolve case of abducted Lebanese soldiers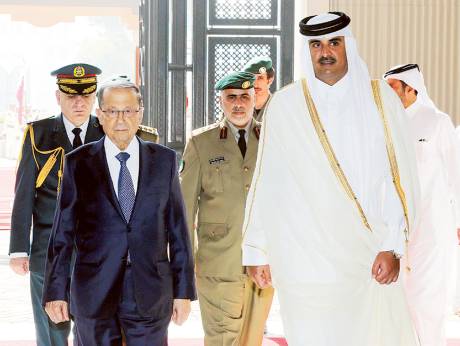 President Michel Aoun   landed in Doha Wednesday accompanied by an eight-minister delegation in his second and last stop on a tour of Gulf countries to meet with the Emir of Qatar Sheikh Tamim bin Hamid al-Thani and top officials .
The Emir of Qatar vowed  to follow up on the case of the nine abducted Lebanese soldiers following his talks with President  Aoun
Nine Lebanese soldiers  and policemen have been held captive since  (ISIS), along with Jabhat Fatah al-Sham – formerly the Al-Qaeda-linked Nusra Front – briefly overran the northeast border town of Arsal in August 2014.
More than 30 soldiers and policemen were initially captured, but most were released. Some were killed in captivity, however, and nine  are still being held by ISIS.
Aoun's two-day official visit to Doha came at the invitation of the emir, with whom he met personally  after his arrival.
The emir expressed optimism over Aoun's  election  as Lebanon's 13th president, describing him as "the best choice."
The meeting addressed means to promote bilateral ties between the two countries.
He said he hoped that the Lebanese president's visit would pave the way for more official trips between the two countries, and Aoun urged strong bilateral ties between Qatar and Lebanon, inviting the emir to visit Lebanon.
Sheikh Tamim also praised the efforts exerted by Lebanese security agencies to preserve stability in Lebanon, which "would encourage Qataris to visit Lebanon during the holidays."
He also expressed his country's readiness to contribute to development projects in Lebanon and to encourage investment in the country.
Aoun discussed the security situation in Lebanon, reiterating that preemptive strikes by the Lebanese Army and security agencies have averted terror plots in the country.
After the meeting, the Lebanese delegation and their Qatari counterparts held bilateral talks to discuss matters of common interest and means of exchanging expertise.
Syrian civil war 
The emir of Qatar also discussed the conflict in Syria with Aoun, reiterating his country's utter rejection of President Bashar Assad's government, according to media reports
Aoun, who is allied with Assad's ally Hezbollah said that only a political solution could resolve the conflict in the neighboring country.
He said he was anticipating the Syria talks in Astana to be a success, stressing that "wars cannot be resolved by arms."
"The intervention of [foreign] states are preventing Syrians from agreeing among each other."
The emir said that Lebanon and Qatar have similar viewpoints concerning the matter.
Moscow said Wednesday peace talks would begin in the Kazakh capital Astana on Jan. 23.
Saudi Arabia
Aoun travelled to  Doha from Riyadh  where he was a on a two day visit said the trip had opened a new page in Saudi-Lebanese ties and that bilateral relations had returned to normal.
Ties between Beirut  and Riyadh deteriorated last year after Saudi Arabia halted $4 billion grant to arm  the Lebanese Army and security forces. Riyadh said the move was in protest of "hostile" stances toward the kingdom linked to Hezbollah and Iran at Arab League and Islamic meetings.
This was the  president's  first trip abroad since his election last October  ended 2-1/2-years of political deadlock.
Important 
Lebanese ambassador to Qatar Hassan Qassim Najem  who held a reception at the embassy for Aoun and  accompanied delegation said that the visit of President General Michel Aoun to Qatar was exceptionally important since his election came after long months of Lebanon being without a head of state.
Speaking to Qatar News Agency (QNA), the ambassador said that visits made by different Lebanese presidents to Qatar in the past usually led to an improvement  in bilateral ties.
Najem acknowledged that those ties suffered from increasing tensions lately due to the recent developments in the region.
The ambassador expressed his hope that the latest visit will be another shining example of the strong ties with Qatar.
He stressed that this particular relationship was never affected by the grave events that hit the Arab world in recent years.
He added that the Lebanese people would love to see Qatari citizens visiting their country.