Lebanon President Michel Aoun travels to Saudi Arabia
President Michel Aoun landed in Saudi Arabia on Monday, his first trip to the kingdom since taking office after a tense year in Saudi-Lebanese ties.
The election of Aoun, 81, in November by Lebanese legislators ended a 29 month deadlock between Iran and Saudi-backed blocs in parliament.
Aoun, a Hezbollah ally and former army chief, clinched the post with shock support from Saudi ally Saad Hariri, a leading Sunni leader who in return was named prime minister.
Analysts say Saudi Arabia is hoping for a more stable Lebanon, after Riyadh's concerns about the role played by Hezbollah in Lebanon's government.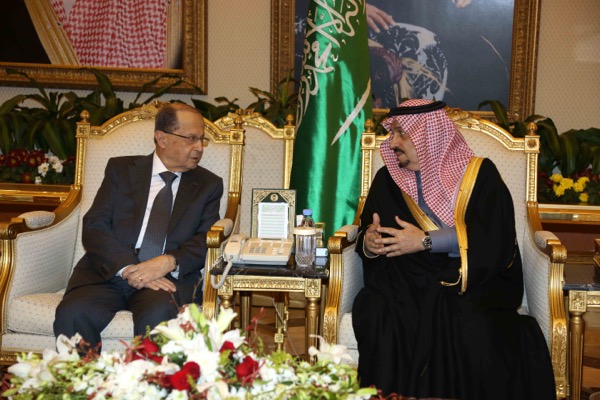 The Iran-allied Shiite militant group has fighters in Syria supporting forces of president Bashar Al Assad.
Saudi Arabia, Iran's regional rival, backs some rebels opposed to Assad.
Riyadh last March declared Hezbollah a terrorist organisation and urged its citizens to leave Lebanon.
In February the kingdom halted a US$3 billion programme of military aid to Lebanon in protest against what it said was "the stranglehold of Hezbollah on the state".
Syria's five-year war has been a major fault line for Lebanon's politics.
Anwar Eshki, a retired Saudi general and founder of the independent Middle East Centre for Strategic and Legal Studies, said he expected the stalled military aid to figure in Aoun's talks with Saudi officials.
The programme, funded by Riyadh, would have provided vehicles, helicopters, drones, cannon and other military equipment from France.
"The only way for peace in Lebanon is to support Aoun," Mr Eshki said.
"The main goal of Saudi Arabia is to make Lebanon peaceful and independent", and that includes its army, he said.
Aoun's arrival in Riyadh follows a late-November visit to Beirut by Prince Khaled Al Faisal, the governor of Mecca who is also an adviser to King Salman.
Prince Khaled's visit showed that "Saudi Arabia did not disengage itself from Lebanon," Tariq Alhomayed, former editor in chief of the pan-Arab Asharq Al Awsat, wrote in a column for the newspaper.
By meeting Aoun, Hariri and other government officials – rather than party leaders – Prince Khaled sent a message of support for the Lebanese state, Alhomayed wrote.
Tens of thousands of foreign workers at Saudi Oger, a construction firm led by Hariri, have gone months without salaries in Saudi Arabia.
The Saudi government says it will pay early this year the arrears it owes to private firms, chiefly in the construction sector, as a result of collapsed oil revenues.
Love and Friendship
"The Lebanese-Saudi ties were affected by the events that happened in the Arab countries… and I'm here today to put an end to the ambiguities we witnessed, carrying love and friendship to the Saudi people," Aoun said in an interview in Riyadh with al-Ekhbariya TV.
Asked about the situations in Lebanon in light of the regional circumstances, the president noted that "the parties in Lebanon have reached consensus on the idea of building Lebanon regardless of the outcome of the developments in the other countries," stressing that "reconstruction, security and stability would benefit everyone."
Turning to the issue of terrorism, Aoun said all countries should "cooperate in fighting terrorism."
"Lebanon is not an isolate island… and we need to cooperate with the Kingdom of Saudi Arabia and all countries because terrorism is no longer confined to the Middle Eastern countries," the president added.
Although Lebanon and Saudi Arabia are not next to each other geographically, the exchange of anti-terror expertise and information is a good and desired thing. And during the visit, we will explore all the issues, including the possibility of offering aid to the Lebanese army," Aoun went on to say.
Aoun is accompanied by a large ministerial delegation comprising  ministers Gebran Bassil (foreign affairs), Marwan Hamadeh (education), Ali Hassan Khalil (finance), Yaaqoub al-Sarraf (defense), Nouhad al-Mashnouq (interior), Pierre Raffoul (presidency affairs), Melhem Riachi (information) and Raed Khoury (economy).
Prior to departure, Aoun had met with a French parliamentary delegation.
"We are looking forward to a political solution to the Syrian Crisis and to the return of the displaced Syrians to their country," Aoun told the delegation.
"There are safe areas in Syria at the moment and it is appropriate to launch efforts to return them home," he added.
MP Alain Aoun of the Change and Reform bloc has stressed the keenness of President Aoun and the Free Patriotic Movement on restoring normal ties with the Arab Gulf countries, noting that the president's visit to Riyadh will achieve this goal.
"President Michel Aoun's trip to Saudi Arabia will launch a new chapter in the Lebanese-Saudi relations and will pave the way for a new phase between the two brotherly countries, and subsequently between Lebanon and the rest of the Gulf states," MP Aoun told the Kuwaiti al-Anbaa newspaper in remarks published Sunday.
"This visit is important because it will return ties to their normal and historic state, which will happen gradually through ending the Saudi and Gulf boycott of Lebanon and halting all the negative measures against it, after the relations between Beirut and the Gulf states deteriorated in recent years due to the regional conflict," MP Aoun added.
Hariri Hails Aoun's Saudi Visit
Prime Minister Saad Hariri on Monday lauded President Aoun's visit to Saudi Arabia as an "important step," as he stressed his keenness on "the policy of dialogue" in Lebanon.
"The visit of President Michel Aoun to the Kingdom of Saudi Arabia started today and we consider it an important step on the correct Arab course to restore Lebanon's ties with the kingdom and the rest of the Gulf countries," Hariri told a delegation from the Beirut Families Union.
AFP/YL