Carlos Ghosn: The history of my family, the story of me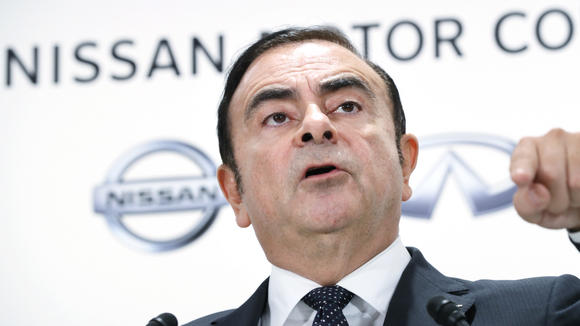 How his Lebanese roots and childhood in Brazil shaped Ghosn from an early age
My full name is Carlos Ghosn Bichara, after my grandfather Bichara Ghosn. He was born at the base of Mount Lebanon where there were many Maronite Christians and an abundance of centuries-old Lebanon cedars. The Maronite Church is a part of the Roman Catholic Church that maintains its own original structure and rites. To this day, Maronite churches hold Mass in Syriac, said to have been the language used by Christ.
Religious conflicts, as well as extreme poverty, made life in Lebanon difficult during the early 20th century. To escape these challenges, my grandfather, at the age of 13, boarded a boat with just a single suitcase in his hand. It took three months to get from the Lebanese capital of Beirut to Rio de Janeiro, Brazil.
After working for a short period of time in Rio, he moved to the basin of the Amazon River to seek greater opportunities. He landed in Sao Miguel do Guapore, before it became part of Brazil, and eventually settled in the then-undeveloped lands of Porto Velho, today the state capital of Rondonia.
Agricultural products, including rubber, were harvested there. The region was quickly becoming a major international hub for rubber production, and there was an intense movement of people and supplies. Capitalizing on this environment, my grandfather headed several companies, one of which provided local assistance to aviation companies expanding their routes into the Amazon. My father, along with his brothers, would eventually inherit this business after my grandfather's death.
It was common for Lebanese immigrants to travel to their homeland, wed, and then return. The same applied to my grandfather. Through an introduction from a friend, he met his wife-to-be in Beirut. A few years after they were married, my father, Jorge Ghosn, was born in Brazil.
My father also traveled to Lebanon when he came of age. There, he met and married my mother. Her name is Rose, but she goes by Zetta. She was born in Nigeria and later studied in Lebanon. I remember her mother — my grandmother — well. She had a tremendous influence on me. She was always well-organized and approached everything with honesty and in earnest. She was also very strict, so as a child, I didn't like her very much. I have learned in the years since that these are the kinds of people you remember most, the ones who make a lasting impression. Much of who I am is the result of who my grandmother was.
My mother also had a tremendous influence on my life. Unlike her mother — and perhaps as a consequence — she wasn't very strict. Rather, she was filled with love and was very approachable. She was also a devout Francophile. She spoke French exquisitely and was even more French than people who had been born there. This would greatly influence my choices when it was time to pursue my studies, and my family and I would live in Paris for many years.
My mother, who is now 86 years old, resides in Brazil, as does most of my family. Two of my sisters live near my mother in Rio de Janeiro. My father has since passed away. I return a couple of times each year. Overall, we're a close-knit family.
I provide this family history because it has had a profound impact on shaping my life and identity. My part of the story began in 1954, shortly after my parents were married and settled in Porto Velho. My older sister was also born there.
From what my mother tells me, I was full of energy as a baby. But when I turned 2, there was an unfortunate incident. Our home was located in the tropical area around the Amazon, which was infested with mosquitoes. It was common practice for all the children to drink only boiled water to avoid disease, but one day I was accidentally served water that hadn't been boiled. I came down with a high fever. As it was described to me, I was on death's doorstep. The doctor told my parents that if they wanted me to survive, I would need to live in a place where the climate was more favorable, and where the water was safe to drink. In other words, we would have to move.
ASIA NIKKEI