Ambassador Kyriakos Amiridis, 59, had been missing since Monday, Evaristo Pontes Magalhaes, a police investigator in the Baixada Fluminense state, said Friday at a news conference. A burned car with a charred body inside was found in Nova Iguaçu, a town outside Rio de Janeiro, on Thursday and the body was identified as Amiridis on Friday, he said.
Being questioned in the killing are the widow, Francoise De Souza Oliveira; military police officer Sergio Gomes Moreira Filho; and the officer's cousin, Eduardo Moreira de Melo, Pontes said.
Pontes said investigators think Francoise De Souza Oliveira ordered the killing. No charges have been filed.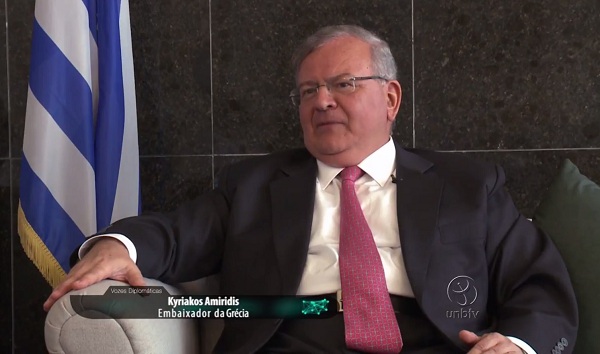 "It was a crime of passion committed by Ms. Francoise and the military policeman," Pontes said.
"They were in a romantic relationship between them," Pontes said. "She only told us that her lover — let's call him that — the military policeman, was the author of the crime, executed this crime against her husband. She denies taking part."
Citing police, the state-run news agency Agencia Brasil reported the officer killed Amiridis inside the ambassador's home in Nova Iguaçu. With the help of the officer's cousin, the officer wrapped the body in carpet and put it inside a car, Agencia Brasil reported.
Pontes said the cousin told police Sergio Gomes Moreira Filho offered "to pay him 80,000 reals (about $24,574) 30 days after the crime, a period after which they thought there wouldn't be any more problems."
"All are under temporary arrest for 30 days for the ambassador's death," Pontes said. " As we said before, this was a tragic, cowardly act."
Amiridis had lived in Brasilia, the capital, since being appointed ambassador in January but usually spent holidays in the house outside Rio, where he was consul-general from 2001 to 2004, Agencia Brasil said.
The news agency said Francoise De Souza Oliveira was Brazilian.
Speaking to reporters outside the police station, Francisco Oliveira, the widow's brother, said the couple "did not fight," reported Agence France-Presse (AFP).
"For me it's like a dream," said Rosangela Oliveira, her mother. "I'll wake up and nothing will have happened."
Brazilian President Michel Temer's office issued this statement: "In this moment of pain and sorrow, I offer, on behalf of the Brazilians, my condolences and solidarity to the government and people of Greece, in particular to the families and people close to Ambassador Amiridis."
The statement says Brazilian authorities will investigate the incident thoroughly.
"The Brazilian government reaffirms its willingness to collaborate actively with the Greek side, as it has done from the beginning," the statement said.
Greece's Foreign Ministry issued a statement expressing its "deepest sorrow" at the death of Amiridis.
"The late diplomat served at the Permanent Mission of Greece to the EU, at the General Consulates in Rio de Janeiro and Rotterdam and at the Greek Embassy in Belgrade during the first phase of the war in Yugoslavia," the statement said.