Hezbollah says Aleppo could pave way to political solution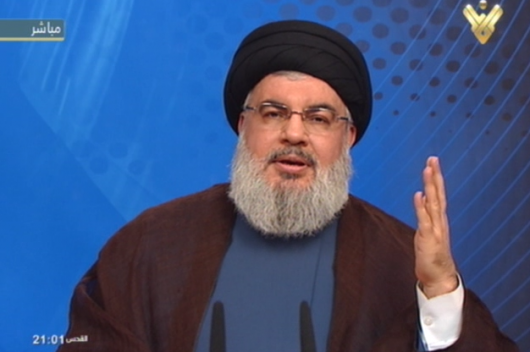 Hezbollah leader  Hassan Nasrallah said on Friday the Syrian government's defeat of rebels in Aleppo this week had ended their hopes of ousting President Bashar al-Assad and could pave the way to a political solution for the country.
Troops from the Lebanese Shi'ite Hezbollah are fighting alongside Syrian government forces against rebels opposed to Assad's rule and against Islamic State militants in Syria.
In a televised live address, Nasrallah said Syrian government forces' recapture of the northern city of Aleppo after four years of fighting with rebels holding its eastern sector had opened a new stage in the nearly six-year conflict.
"Today, after Aleppo, one can safely say the (opposition's) goal of toppling the regime has failed," he said. "The victory of Aleppo can open new horizons for political solutions…It could make some nations realistic and see new viewpoints."
"Because the regime has Damascus and Aleppo — the two biggest cities in Syria — and Homs, Hama, Latakia, Tartus, Sweida… this regime is present, strong, effective, and no one in the world can ignore it," Nasrallah said.
"What happened in Aleppo over these past long months… was a real war, one of the toughest battles that Syria has seen, and one of the toughest battles that the region has seen in years," Nasrallah said.
He noted that the next stage will be focused on "consolidating the victory in the city of Aleppo and its suburbs because the armed groups will seek to target the city and its suburbs."
The Syrian army on Thursday said it had retaken complete control of Aleppo after the last rebel fighters were evacuated from the battered city, handing Assad his biggest victory of the war.
In addition to help from Hezbollah, the Damascus regime has been bolstered by its allies Iran and Russia, while rebels have been backed by Turkey, Qatar, Saudi Arabia, and some western powers.
Nasrallah also announced that the residents who were evacuated from Aleppo's eastern neighborhoods and the Damascus suburb of Daraya will return to their homes in the future.
Turning to Lebanon, Nasrallah said :
 "Some like to claim that this is 'Hezbollah's government' and that Hezbollah  wants to seize control of the country and the institutions. These are false claims that some impotent and weak parties hide behind."
"We do not want to seize control of the country even if all political forces and parties ask us to do so… No one can accept to shoulder the responsibility of a country facing this amount of difficulties," Nasrallah noted.
As for Lebanon's future, Hezbollah's leader added: "The discussions are positive and open-minded and everyone wants to reach results. Our country is entering a state of political and security stability."
"We're awaiting the next parliamentary elections and we must remain alert at the security and political level because the terrorist groups are angry over their defeat. The country's future hinges on everyone's cooperation and understanding," he added.