Airlines of the Middle East Start to Feel Pressure From Weakening Global Economy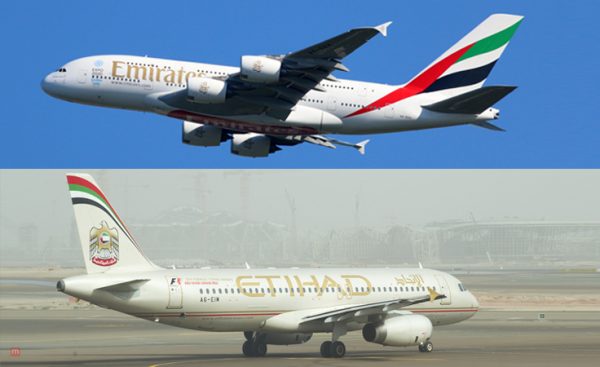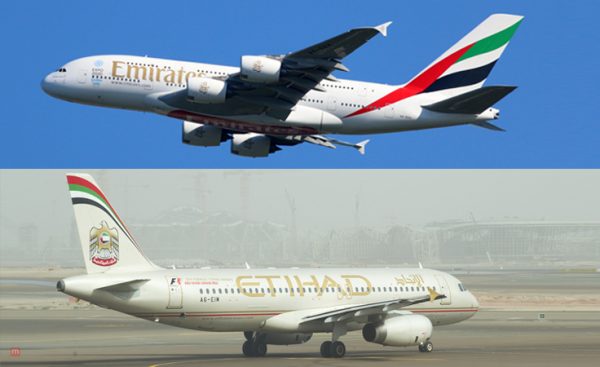 By NICOLAS PARASIE in Dubai and ROBERT WALL in London
The boom times are fading for the Middle East carriers whose rapid expansion has sparked a nasty war of words with European and U.S. rivals in their battle for customers.
Abu Dhabi's Etihad Airways said late Sunday it will slash an unspecified number of jobs as part of a companywide restructuring triggered by slowing growth amid a weakening global economy.
The Gulf state-owned airlines have flourished in recent years, luring passengers from rivals by offering lavish amenities on their quickly-growing fleets of new planes. Dubai-based Emirates Airline, the world's largest by international traffic, has installed showers on its Airbus Group SE A380 superjumbos. Abu Dhabi-based rival Etihad Airways offers private rooms on its A380s and a nanny service.
The airlines' rise has stoked anger among more established U.S. and European carriers, who accuse the two Middle East companies and Qatar Airways of benefiting from billions of dollars in subsidies that distort competition. The three Gulf carriers deny they are subsidized.
But a prolonged slump in the price of oil and a more muted global growth outlook has hit corporate bookings in many of the emerging markets served by the Mideast carriers, forcing them to reassess growth plans.
Emirates Airline is also cutting positions and is delaying a decision to buy new long-range planes from Boeing Co. or Airbus because business prospects have weakened, airline president Tim Clark said this month in London. The airline has begun charging for seat assignments for some buying its cheapest tickets and plans to introduce premium economy seats to boost sales in response to falling ticket prices.
The International Air Transport Association said Middle East airlines will likely see collective profit fall sharply next year to around $300 million from an estimated $900 million this year.
Emirates Airline last month reported a 75% drop in half-year net profit, citing currency fluctuations and a slackening in demand due to the economic slowdown. Mr. Clark has warned demand growth for air travel would slow in the years ahead.
An Etihad spokesman said Monday most of the downsizing would come by not filling jobs that become vacant. Etihad Aviation Group, which employs roughly 26,000 people, also holds shares in a raft of struggling airlines including Air Berlin PLC and Alitalia.
"Etihad Airways is operating in an increasingly competitive landscape, against a backdrop of weakened global economic conditions," the spokesman said. He wouldn't detail where the job losses would occur.
Competition is intensifying. Lufthansa has set up a budget long-haul unit to better compete with the Gulf carriers. Air France-KLM plans a similar move.
Andrew Charlton, a consultant at Aviation Advocacy said new technology planes represent another headwind. The Mideast carriers have grown by funneling passengers through their mega hubs. "But the technology is moving on, as it always will, and now we are looking at some of the airlines starting to overfly the Gulf," Mr. Charlton said.
Qantas Airways Ltd. this month announced plans to directly link Perth, Australia and London, skipping the Dubai-hub of its close business partner Emirates Airline.
Mr. Clark said growth could be further dampened by protectionist sentiments in many countries.
Some established Western airlines including Delta Air Lines Inc. in the U.S. and Air France-KLM SA in Europe have leaned on their governments to curb the growth of their rivals.
Delta Air Lines Inc. Chief Executive Ed Bastian this month told investors he was "very encouraged" by a commitment from President-elect Donald Trump to enforce U.S. trade deals. The carrier has been among those accusing the Middle East rivals of breaching the rules of the open skies accord between the countries.
Mr. Clark said "I am quietly hopeful that Trump, who has had many business interests outside of the U.S., isn't opposed to free trade."
WSJ