Bounty for ISIS chief who is trapped in Mosul raised to $25 million by U.S.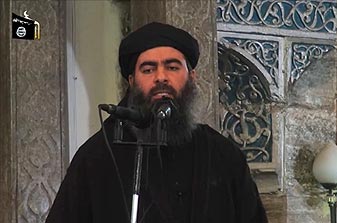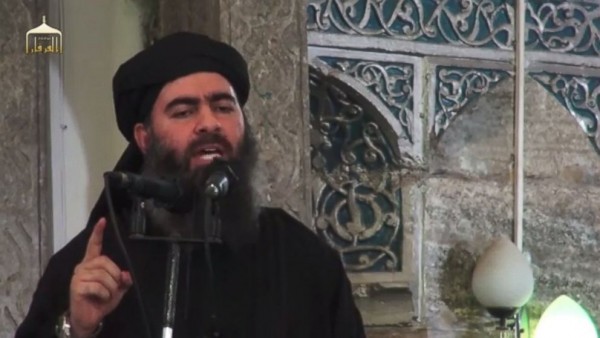 Islamic State leader Abu Bakr al-Baghdadi is trapped in the besieged Iraqi city of Mosul, it was claimed last night.
The United States is offering $25 million for information leading to the capture of al-Baghdadi.
The Department of State released a statement Friday announcing the $25 million dollar reward for the self proclaimed caliph of the Islamic State in Iraq and Syria — more than doubling the reward announced previously.
"The threat that al-Baghdadi poses has increased significantly since the Department of State's initial $10 million reward offer for information leading to his location, arrest, or conviction was announced in 2011," the department's Rewards for Justice Program said on its website.
Under al-Baghdadi, ISIS grabbed swaths of territory in Iraq and Syria — earning a reputation for unparallelled brutality.
He is believed to be holed up with ISIS bombmaker Fawzi Ali Nouimeh, raising fears of a network of booby-trap bombs throughout the stricken city.
Officials have long described al-Baghdadi as enemy No. 1 in the fight against the militant group, and speculation has swirled over his whereabouts.
Though al-Baghdadi has been elusive, he has spoken out occasionally in videos and audio messages.
In October 2015, Iraq's military claimed its air force had struck a convoy in western Anbar province that included a vehicle carrying al-Baghdadi. For weeks, reports circulated that he was seriously injured in the airstrike.
Those reports have since been disputed by US officials.
Senior Kurdish official Hoshiyar Zebari said his forces had "solid" intelligence that al-Baghdadi and Nouimeh were still in the city.
ISIS fighters in the city are said to be unable to pinpoint if attacks will come from the east, west or north.
As they grew more desperate, they used civilians as human shields when Iraqi and Kurdish troops opened fire on villages outside the city. Commanders said men, women and children were forced into the line of fire.
It is feared attacks on Mosul could lead to a massive exodus as the estimated 1.5 million people still living there attempt to flee.
The International Organisation for Migration said it was preparing gas masks in case of chemical attack by the jihadis.
Agencies