Trump hints U.S. 'One China' policy could end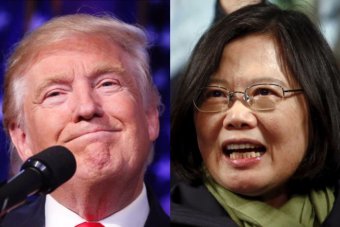 President-elect Donald Trump has questioned whether the US should continue its "One China" policy.
US policy since 1979 has respected China's stance on Taiwan, which it sees as a breakaway province.
But Mr Trump said that without concessions from Beijing on trade and other issues, he did not see why that should continue.
Relations with China became strained when Mr Trump took a phone call from Taiwanese President Tsai Ing-wen.
Mr Trump went on to post a series of tweets criticising China for its monetary policy and its operations in the South China Sea.
Speaking in an interview with Fox News broadcast on Sunday, Mr Trump said: "I don't know why we have to be bound by a One China policy unless we make a deal with China having to do with other things, including trade."
Mr Trump also said China was not co-operating with the US on its handling of its currency, on North Korea, or on tensions in the South China Sea.
'Very disrespectful'
Mr Trump's decision to take a phone call from the Taiwanese president earlier this month was a break with US diplomatic tradition and prompted a formal protest from Beijing.
No US president or president-elect had spoken directly to a Taiwanese leader for decades.
But in the Fox interview, Mr Trump said it was not up to Beijing to decide whether he should take a call from Taiwan's leader.
"I don't want China dictating to me and this was a call put into me," Mr Trump said. "It was a very nice call. Short. And why should some other nation be able to say I can't take a call?
"I think it actually would've been very disrespectful, to be honest with you, not taking it."
In the same interview, Mr Trump said he "doesn't believe" a CIA assessment that Russian hackers tried to sway the US presidential election in his favour.
What is the problem?
The split between China and Taiwan goes back to 1949, when the Republic of China (ROC) Kuomintang (KMT) government fled the mainland to Taiwan after being defeated by the communists under Mao Zedong. The KMT held China's seat on the UN Security Council and was, for a while, recognised by many Western nations as the only Chinese government.
But in 1971, the UN switched diplomatic recognition to Beijing. Only a handful of countries now recognise Taiwan's government.
Washington cut formal diplomatic ties with Taiwan in 1979, expressing its support for Beijing's "one country, two systems" concept, which states that Taiwan is part of China.
But despite the cut, the US remains, by far, Taiwan's most important friend, and its only ally.
The Taiwan Relations Act promises to supply Taiwan with defensive weapons. It says that any attack by China on Taiwan would be considered of "grave concern" to the US.
China has hundreds of missiles pointing towards Taiwan, and has threatened to use force if it formally declares independence.
President Tsai, Taiwan's first female leader, led the Democratic Progressive Party (DPP) to a landslide victory in the January 2016 election.
The DPP has traditionally leaned towards independence from China. President Tsai's administration does not accept the "One China" policy.
BBC