Hezbollah chief denies obstructing cabinet formation. Says his battle is not in Lebanon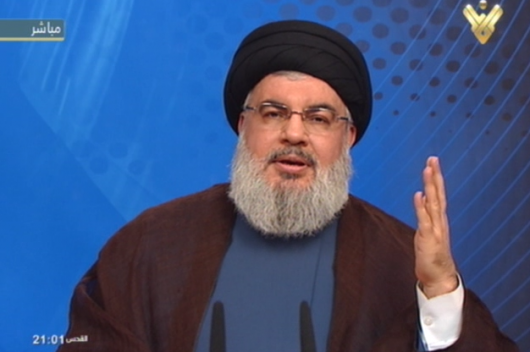 Hezbollah leader Hassan Nasrallah denied during a televised speech on Friday that his party was obstructing the formation of the Lebanese cabinet and urged rival political factions to agree on a cabinet line up as soon as possible.
He also urged Parliament to begin discussing the country's new electoral law by separating the issue from the Cabinet formation.
He reiterated his party's stance that "the only law that can lead to building a State is one fully based on proportional representation and on turning Lebanon into a single electoral district or several large districts ."
Lebanese parties are divided between adopting a proportional electoral law or a hybrid electoral law that includes aspects of the proportional and current winner-take-all systems.
Nasarallah cited two "minor" problems impeding Prime Minister-designate Saad Hariri's Cabinet formation: " Disagreement on one or two ministerial portfolio and the representation of all sides in the government."
Nasrallah expressed belief that none of Lebanon's political factions sought to obstruct Cabinet formation.
He also denied reports that his ally, Speaker Nabih Berri, was obstructing the cabinet formation and that he was so on Hezbollah's behest.
Hariri's efforts to form a Cabinet have been hampered by rival politicians' overlapping demands for key ministerial portfolios.
Nasrallah described the jockeying for ministerial portfolios as "normal."
Referring to Marada Movement leader Suleiman Frangieh, who seeks a key ministerial portfolio, Nasrallah said "It's every group's right to be represented with a main portfolio, " without elaborating what he meant by main.
Turning to the alliance between the Free Patriotic Movement and Lebanese Forces, Nasrallah said that the party isn't "busy with addressing the LF and its decisions. Our battle is outside Lebanon and isn't concerned with local politics."
He emphasized that "it is not true that Hezbollah has asked FPM to renounce its alliance with the LF or to choose between allying with Hezbollah or allying with the LF."
"Some are trying to give the impression that Hezbollah is preoccupied with the issue of the LF's relation with the FPM. This is not to underestimate the LF, which is an essential force in Lebanon, but everyone knows that we are busy somewhere else… We are busy in a place that will shape the region's future," Nasrallah added, in a possible reference to Hezbollah's support for president Bashar al Assad in the Syrian civil war.
"We do not have a negative evaluation of the Christian alliance and this alliance can resolve a lot of domestic problems in Lebanon," he said.
Nasrallah also denied that Hezbollah is "dismayed" by the president's foreign relations or the latest visit to Lebanon by a senior Saudi delegation.
"We were not dismayed. It is not true that we would be dismayed if the president chooses Saudi Arabia for his first visit, seeing as the president has the right to travel to any country and we do not have the right to veto the president's trip to Saudi Arabia, the same as no one has the right to veto his trip to Iran or Syria," he added.
Nasrallah also hoped that the relation between its allies the FPM and Marada Movement will be restored soon.
"Our battle will draw the future of the region." He stressed adding. There's no battle here."
underlining that Hezbollah's relation with Aoun and the Free Patriotic Movement is "excellent and built on mutual respect and deep trust."
"We communicate on near-daily basis with President Aoun, FPM chief Jebran Bassil and the FPM's leadership… We might have different viewpoints over some issues but this is positive in discussions," He added and blasted reports over disagreements as "baseless," and reports quoting Hezbollah sources as "worthless."This was in reference to reports of disagreement over Gebran Bassil's relations with the Lebanese Forces leader Samir Geagea .
According to a rereport that surfaced last week Hezbollah accused Bassil of closely aligning himself with Geagea in order to secure a parliamentary seat in the upcoming elections.