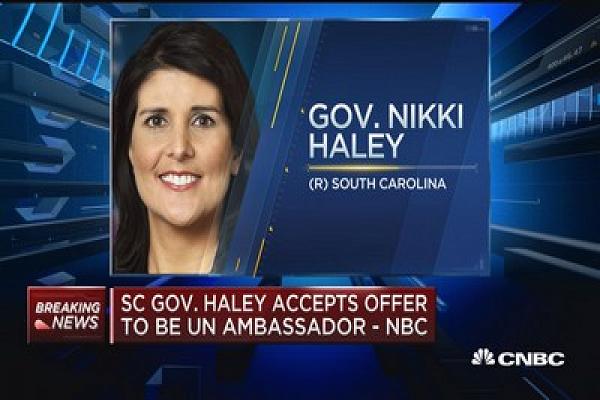 For Donald Trump to nominate Nikki Haley—first female governor of South Carolina, second-generation Indian-American, formerly vocal critic of the president-elect's divisive rhetoric—as his ambassador to the United Nations says very little about his future foreign policy, but a lot about his desire to tamp down his image as a racist and chauvinist.
Haley has virtually no international experience. Even supporters are grasping for foreign policy credentials, citing a handful of trade and investment junkets she took to promote South Carolina; her husband's service with the National Guard in Afghanistan; and—no joke—that she is the child of immigrants. Much more important to Haley's profile than any overseas travel, however, is her image as a "racial conciliator," as an Associated Press headline dubbed the 44-year-old. And that stems largely from one act—her leadership in removing the Confederate flag from South Carolina's Capitol grounds in the days after a white man gunned down nine black parishioners in Charleston in 2015. A week later, flanked by lawmakers from across the political and color spectrum, Haley issued a call to remove the Stars and Bars—a divisive symbol the shooter displayed proudly in photos unearthed on white supremacist websites—from its perch aside the statehouse.
That moment propelled Haley to national prominence as the new face of compassionate conservatism, which she burnished with her January rebuke of Trump's "angry" rhetoric in the Republicans' response to President Obama's last State of the Union address. And it's an image that's offered some reassurance to international organizations and United Nations diplomats. "Nikki Haley has a record of speaking her mind. If confirmed, we hope she will raise that voice on behalf of the world's most vulnerable people who suffer from hunger, violence and injustice around the world," the international development group Oxfam said in a statement reacting to the November 23 appointment. Richard Gowan, an expert on the United Nations and fellow at New York University's Center for International Cooperation, told Politico last week, "Diplomats were expecting Trump to send an angry white man to the U.N. The mere fact that Haley is not an angry white man is good in terms of political optics."
But for South Carolina's poor, rural and minority communities, symbolism—whether it's the ethnicity of their governor or a new home for the state's Confederate flag (a military museum)—hasn't been all that meaningful. Haley's boosters like to use the term inclusive to describe her, but civil rights advocates say that's just branding. "We still have the very old policies that have kept us behind [the rest of] America, kept us behind the world in human rights," argues South Carolina NAACP President Lonnie Randolph. For them, the most tangible way Haley could have helped bring equality to South Carolina would have been ensuring roughly 200,000 poor, disproportionately minority residents of the Palmetto State gained access to basic, affordable health care. Haley is poised to leave office without doing so, something that says a lot about how she's opted to balance politics and principles as governor.
She'll face a similar balancing act at the United Nations, where domestic political pressures—whether it's pro-Israel forces, the abortion debate or demands to slash U.S. funding to the body—will be front and center even as she pursues diplomacy. Symbolism, tone and word choice all matter in international affairs, but they will only go so far.
Tiptoeing Around Bigotry
A wooden sign reminds visitors that Bamberg, South Carolina, about an hour southeast of Columbia, is the birthplace of Nikki Haley. The governor regularly reminds people of that as well. Originally an outpost along the Charleston-to-Augusta railroad route, the town of 3,500 figures prominently in Haley's political biography. It is a symbol both of her Southern roots and her I-feel-your-pain humanity. Haley explains her education reform effort, for example, through the lens of Bamberg, recounting with her typically sunny, singsong delivery how, on a trip back to her hometown, she learned that schools there " didn't have the video equipment to show a video on, and I just thought that was immoral." The problem, she told Newsweek earlier this year, is "we did not acknowledge poverty in South Carolina" when it came to education inequities. Note that she says poverty—no mention of race.
There was of course now way for Haley to avoid South Carolina's racial divide during her time in office, but she's always approached it through her experience growing up as an outsider in Bamberg's segregated society, where she fit into neither of the two main racial groups. "We were the only Indian family in town—not white enough to be white, not black enough to be black," she recalled in a speech to the National Press Club in Washington last fall. That has allowed her to avoid getting caught up in the state's us-versus-them racial divide. The Palmetto State has "very aggravated fault lines based on class and race," says John Crangle, director of the watchdog group Common Cause South Carolina. "For a lot of white people, state government is seen as benefiting black people more than anybody else. [Haley] saw how she could exploit that," by playing on their desire to cut government spending without explicitly addressing racial cleavages.
Even during her star-making press conference after the Charleston massacre, Haley trod delicately around the ugly realities of bigotry. "On matters of race, South Carolina has a tough history. We all know that," she observed solemnly. "In spite of last week's tragedy, we have come a long ways…and have much to be proud of, but there's more we can do."
Expanding Medicaid coverage to more South Carolinians is not an issue with obvious racial overtones—Haley opposes it on purely fiscal grounds—but its effects, backers say, would have a particular impact on the minority communities. Black people make up more than a quarter of the state's population living in poverty, and Hispanics nearly a third. "I think poverty flows from skin color, not the other way around," says Jim Clyburn, South Carolina's only Democratic congressman and a member of the Congressional Black Caucus. And health-related costs, he and other advocates argue, can be particularly devastating for those trying to climb out of poverty. Noting South Carolina's low rankings in national health studies, Clyburn argues a Medicaid expansion "would change things in the state overnight."
Right now, "the only adults who are covered [by Medicaid] in South Carolina are very low-income parents of dependent children," notes Diane Rowland, executive vice president of the Kaiser Family Foundation. The Kaiser Family Foundation estimates that if South Carolina went along with the Obamacare provisions for Medicaid, nearly a quarter of a million impoverished adults—people making less than 138 percent of the federal poverty level, or roughly $16,500 a year—could be enrolled. That would help cover a sizable chunk of the 600,000 uninsured people under 65 living in South Carolina, despite the creation of health care exchanges under Obamacare. That amounts to 15 percent of the state's population, three points higher than the national average. Opponents object to the expenses involved, but Rowland counters that states that have expanded Medicaid have been able to reduce costs and stimulate their economies.
Such a move, however, would inspire the unyielding ire of the state's conservatives, something that even Haley, known for her political deftness, would have had a hard time withstanding. The governor's career has always been a feat of precision balancing, of playing to the state's identity politics without ever fully embracing any of the competing factions. Her lifelong outsider status in South Carolina's stratified society has been invaluable on that front.
The Little Lady
During her three terms in the state House, Haley made her name as a fiscal conservative and Tea Party–style reformer, trying to shrink government and clean up a legislature notorious for its cronyism. To win her seat in the legislature, she had to defeat fellow Republican Larry Koon, a man who'd been in the chamber since 1975 and was the epitome of the state House's "good ol' boy" culture. Haley recounts in her memoir how he addressed her as "little lady" during their primary campaign.
Toppling Koon didn't earn Haley many friends in the clubby legislature, dominated by long-serving white men, nor did her signature achievement in the House—requiring on-the-record votes on legislation affecting taxes or spending. Previously, South Carolina's lawmakers could hold voice votes on legislation, making it impossible to see how members voted.
Increasing their own accountability was not a popular notion in the state House. "I tell people [the legislature] was like high school," says South Carolina Representative Nathan Ballentine, an ally of Haley's since they started out as freshmen legislators together. At their lunches for the Republican caucus, Ballentine recalls that he and Haley would sit down at one table and "there would, really, be nobody who'd want to sit with us."
Haley's initiative did, however, earn the backing of then-Governor Mark Sanford and the emerging Tea Party movement. And before Sanford became known as the AWOL governor trysting with his Argentine mistress, he was regarded as a conservative hero for seeking to block federal stimulus funding to South Carolina. When he tapped Haley as his chosen successor, it made her a contender for the job, if a dark horse. It was still considered a major upset when the then-38-year-old defeated three more senior (white, male) Republicans to win the primary in June 2010, earning a lift from Tea Party support and a timely endorsement from former Alaska Governor Sarah Palin.
Haley's time in Columbia, however, has demonstrated that she is less ideologue than opportunist, with a knack for sensing a shift in the political winds and a pragmatic streak that pushes her to cut deals. Nowhere is that more evident than her response in the days after 21-year-old Dylann Roof took a Glock into one of South Carolina's oldest black churches and opened fire on a Bible study class in June 2015.
Only months earlier, during her 2014 reelection race, Haley defended the state's status quo on the Confederate flag—a 2000 compromise that allowed the battle flag to remain on the statehouse grounds but not atop the capitol dome. And critics in the state's African-American community don't think Haley deserves much credit for rallying the Republican-controlled state legislature behind her proposal to remove the flag from the area. "This was an NAACP project," notes Randolph. It was his organization that convinced the NCAA and other organizations to boycott the state over the flag, starting in 2001.
But Haley also has some powerful defenders. "One should be an opportunist for justice!" exclaims the Reverend Jesse Jackson, who struck up an unlikely friendship with the South Carolina governor in the wake of the Charleston shooting. Jackson, a Greenville native who still speaks with a Southern accent, says Haley didn't have to be as hands-on as she was in the aftermath of the tragedy at Mother Emmanuel, as the church is known. "She could have taken a rather distant position, a respectful distance," he says, "but she went to every funeral, visited every family, connected with the people with appropriate words."
Jackson think Haley, personally, also believes in expanding Medicaid via Obamacare. "Her own sense of justice says she should," as he puts it. But there is another, more powerful, force at work. "If you look at the states that are refusing to expand Medicaid, they're in the high poverty states and they're states where the Tea Party reigns," says Clyburn. In the end, those political forces appear to have won out.
NEWSWEEK