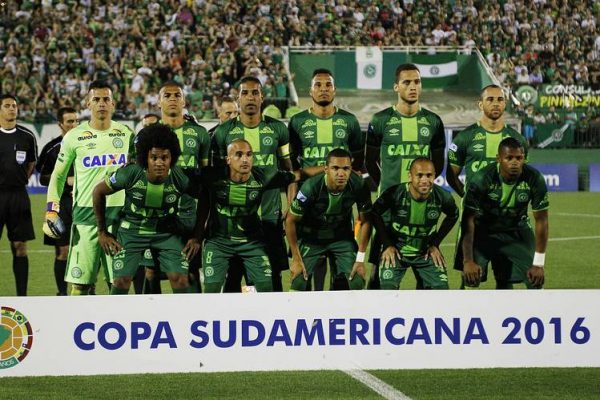 A plane carrying the Brazilian soccer (football)  team Chapecoense, heading for the biggest game in its history, crashed in Colombia on Tuesday, killing 76 of the 81 people aboard.
Chapecoense, from Brazil's top league, had been en route to face Atletico Nacional of Medellin in the first leg of Wednesday's Sudamericana final, South America's equivalent of the Europa League.
The small club from Chapeco had reached its first final of a major South American club competition. Three players were among the survivors, Colombian disaster authorities said. The charter plane was carrying 72 passengers and nine crew.
"Six people were rescued alive, but unfortunately one died. The rest of the occupants unfortunately died. The tragic toll is 76 victims," Jose Gerardo Acevedo, regional police commander, told journalists.
The plane crashed in a mountainous rural area outside the city of Medellin. At one point, heavy rains halted rescue operations. News showed photos of twisted wreckage and hospital staff awaiting patients.
"What was supposed to be a celebration has turned into a tragedy," Medellin Mayor Federico Gutierrez said from the search and rescue command centre.
The club said in a statement that it would not be making any official comments until it had more information from Colombian authorities about Monday night's crash.
The head of Colombia's civil aviation agency said authorities aren't ruling out the possibility that the flight ran out of fuel before crashing. For now, the main line of investigation is a possible aircraft electrical failure.
Alfredo Bocanegra, speaking from the rescue command centre, said communication with Bolivian aviation officials suggested the plane had experienced electrical problems.
At the same time, investigators will have to evaluate reported testimony from a flight attendant who said the plane ran out of fuel.
Heavy rain
Flight tracking service Flightradar24 said on Twitter the last tracking signal from Flight 2933 had been received when it was at 4,724 metres about 30 kilometres from its destination, which sits at an altitude of 2,134 metres.
The Avro RJ85 was produced by a company that is now part of UK's BAE Systems.
The flight crashed around 10:15 p.m. local time. Heavy rain first hampered and then halted rescue operations. Officials told local media that bodies would be removed at first light.
Brazilian news organizations reported 21 journalists were among those on board to cover the match.
The crash evoked memories of a Munich air disaster in 1958 that killed 23 people, including eight Manchester United players, journalists and travelling officials.
Players Alan Luciano Ruschel, Marcos Danilo Padilha and Jacson Ragnar Follmann were listed as survivors in a statement from the disaster management agency.Chapecoense qualified for the biggest game in their history after overcoming Argentine club San Lorenzo in the semifinal on away goals following a 1-1 draw in Buenos Aires and a 0-0 draw at home.
They were very much the underdogs for the match against a club going for a rare double after winning the Copa Libertadores in July.
Chapecoense was the 21st biggest club in Brazil in terms of revenue, bringing in 46 million reals ($18.1 million Cdn) in 2015, according to an annual rich list compiled by Brazilian bank Itau BBA.
Outpouring of grief
The club has built its success on a frugal spending policy that eschewed big-money signings, and instead concentrated on blending young talent and experienced journeymen.
Their best-known player was Cleber Santana, a midfielder whose best years were spent in Spain with Athletico Madrid and Mallorca. Coach Caio Junior was also experienced, having managed at some of Brazil's biggest clubs, Botafogo, Flamengo and Palmeiras among them.
The crash prompted an outpouring of solidarity and grief on social media from the soccer community, with Brazilian top-flight teams Flamengo and Santo tweeting messages of support.
Porto goalkeeper Iker Casillas tweeted: "My condolences for the plane accident that carried @ChapecoenseReal. Tough moment for football. Good luck and stay strong!"
The South American football federation suspended all games and other activities following the crash.
CBC