Trump names KT McFarland, Don McGahn to White House posts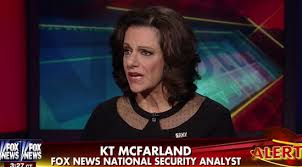 US President-elect Donald Trump added to his West Wing roster Friday, naming KT McFarland as deputy national security adviser and Donald McGahn as his White House counsel.
McFarland served in three separate Republican administrations, most notably as a spokeswoman for Defense Secretary Caspar Weinberger under Ronald Reagan. In 2006, she sought to challenge Hillary Clinton for her U.S. Senate seat from New York but lost in the Republican primary. Most recently, she has been a regular contributor to Fox News on national security issues.
She joins retired Gen. Michael Flynn, previously named as Trump's national security adviser.
McGahn, who was general counsel for Trump's campaign and a former chair of the Federal Election Commission, is a partner at the powerhouse Washington law firm Jones Day. President Obama revealed at a recent news conference that he had advised Trump to hire a strong White House counsel to guide him and his team, who could "provide clear guideposts and rules" to help avoid ethical and conflict of interest concerns.
Trump campaign officials said Friday that the president-elect, who is spending the holiday weekend at his Mar-a-Lago resort in Florida, would make no additional high-level announcements until next week when he returns to New York.
On Monday, he will meet with several more potential Cabinet and sub-Cabinet choices, including Milwaukee County Sheriff David Clarke, Pennsylvania Rep. Lou Barletta and Oklahoma Atty. Gen. Scott Pruitt.
LA TIMES