Lebanon-Gulf ties improving says Qatar FM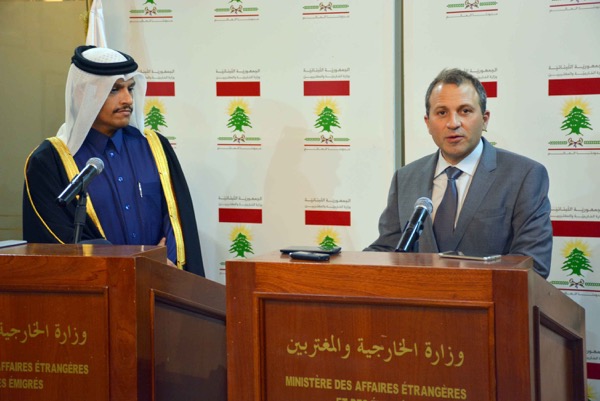 Qatari Foreign Minister  Sheikh Mohammed bin Abdul Rahman al-Thani said after meeting Caretaker Foreign Minister Jebran Bassil on Wednesday in a joint press conference :
"We hope the new government will be formed quickly so that the economy can be boosted and in order for Lebanon to return to being a destination for Gulf tourists," noting that there is positive progress regarding the Lebanese-Gulf ties."
The 2 reportedly  discussed the issue of equipping the army and cooperation in the oil and gas sector.
"Our ties with Qatar have always been good and we don't forget the help we received  during the 2006 aggression and the hosting of the Doha Conference or Qatar's financial and economic support," said Bassil
"We discussed the future and the role of the Lebanese in Qatar and the investments of the Qataris in Lebanon, especially in the oil and gas sector. We are also seeking to launch oil and gas projects and Qatar has expertise in this field," Bassil added.
"We also discussed the issue of the Lebanese army, because Qatar understands the difficulties that Lebanon is facing in its fight against terrorism through its army, which lacks equipment, and we hope to hear a unified Lebanese and Arab voice in support of the army," Bassil went on to say.
The Qatari minister for his part said his country "appreciates the policy that Lebanon has endorsed towards the regional issues and its humanitarian role in hosting the Syrian refugees."
The Qatari minister's visit to Lebanon comes a few days after a similar one by a top level  Saudi delegation led by Mecca Governor Prince Khaled al-Faisal.
Michel Aoun's election as Lebanon's 13th president after two and a half years of presidential void has raised hopes that Lebanon can begin tackling challenges including a stagnant economy and the influx of more than a million Syrian refugees.
Aoun  pledged to endorse an "independent foreign policy" and to protect Lebanon from "the fires burning across the region."