Hundreds evacuated in Israel as flames of wild fires reach Haifa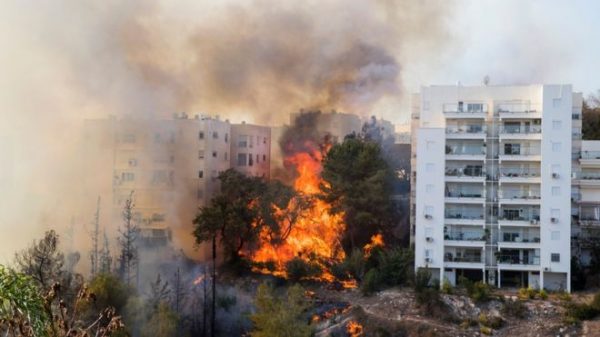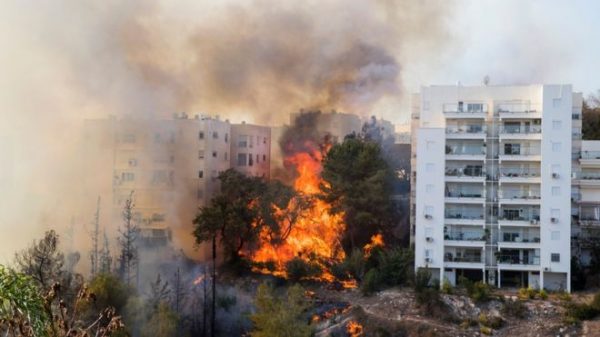 Hundreds of people have been evacuated in Israel and West Bank settlements as firefighters battle a three-day outbreak of forest fires.
Hot, dry wind is fanning the flames, which have reached the city of Haifa and forced the temporary closure of a major Jerusalem-Tel Aviv highway.
A minister said half of the fires were "apparently arson".
However, police said they had not determined whether any fires were started deliberately.
Four people have been arrested in connection with a fire in the Jerusalem area.
Police spokesman Micky Rosenfeld said the Palestinian men were expected to appear in court later on Thursday, on suspicion of starting a bonfire negligently, Reuters reported.
'People are stuck'
No deaths or serious injuries have been reported, though the national ambulance service said 35 people had been treated for smoke inhalation.
In the northern city of Haifa, which is Israel's third largest, some residents were reported to be trapped by the advancing flames.
"We evacuated three neighbourhoods and there are people who are stuck," fire department spokesman Kayed Daher told AFP.
"The fire is still burning and the flames are approaching a gas station."
Flames 10m (30ft) high were threatening several multi-storey tower blocks in one Haifa suburb, an AFP photographer at the scene reported.
Haifa Mayor Yonah Yahav told Channel 2 TV there were indications that one of the fires started when "someone tossed a cigarette in an area full of oil and flammable fluids" in an industrial zone.
Further south, Highway 443 – which links Jerusalem and Tel Aviv, crossing through the West Bank – was closed to morning traffic on Thursday as another blaze reached the city of Modi'in.
Homes and cars were damaged, and 300 students were evacuated from a school, in nearby Talmon settlement, police said.
Several countries – including Cyprus, Russia, Italy, Croatia and Greece – have sent help and equipment, including aircraft, to help tackle the blazes.
"Almost 50% of the fires are apparently arson," Internal Security Minister Gilad Erdan told Army Radio.
Education Minister Naftali Bennett, the leader of a far-right party, said on Twitter in Hebrew: "Only those to whom the country does not belong are capable of burning it."
Meanwhile, the Arabic-language hashtag #Israel_on_fire began trending, with the majority of tweets expressing pleasure over the outbreak.
In 2010, 42 people died in a fire on Mount Carmel, just south of Haifa.
BBC