Hezbollah Stirs Controversy with Military Parade in Syria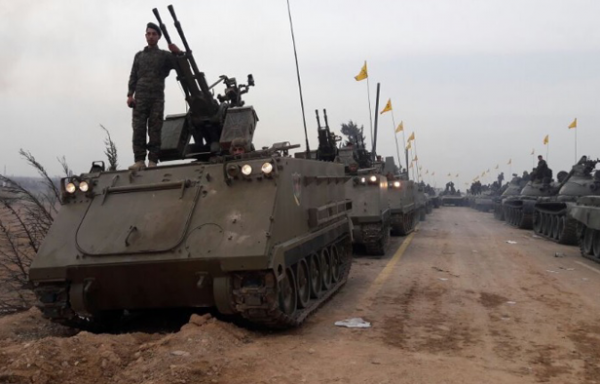 After years of fighting in the shadow of Syrian regime forces and elite Iranian troops, the Lebanese Hezbollah has stirred controversy by publicly touting its involvement in Syria's civil war with a military display in a Syrian town.
Hezbollah staged a parade in Qusair, Syria, featuring Russian- and U.S.-made military hardware including armored personnel carriers and tanks.
After photos of the event, held on Sunday, circulated on social media this week, it brought concern from inside Syria and out.
U.S. officials are investigating how Hezbollah, designated by the U.S. as a terrorist organization, acquired the U.S.-made equipment and where it came from.
'Gravely concerned'
A U.S. Department of State spokeswoman said the U.S. is "gravely concerned if equipment ended up in the hands of Hezbollah." And a U.S. defense delegation reportedly visited Lebanon this week to discuss the matter with Lebanese defense officials.
"Our embassy in Beirut is working with the Lebanese armed forces to investigate the images circulating on social media purporting to show Hezbollah displaying U.S. military equipment in Syria," State Department spokeswoman Elizabeth Trudeau said.
The Lebanese military, which is largely dependent on the U.S. for arms and military supplies, said in a statement that "the weapons shown in the photos are not from [our] stockpiles and don't belong to us."
This summer, the Pentagon provided the Lebanese military with artillery and armored vehicles worth nearly $50 million as part of U.S. efforts to strengthen Lebanon's capacity to fight extremist groups.
The U.S. government last month imposed additional sanctions on Hezbollah commanders and fundraisers. The new sanctions include preventing U.S. citizens from conducting business with individuals and organizations that have ties with Hezbollah.
Hezbollah has not said how it came in possession of the U.S. equipment.
But "these weapons were not taken from the [Lebanese] army," Salem Zahran, head of Media Focal Center, a pro-Hezbollah group in Beirut, told VOA.
In Syria
Hezbollah has sent thousands of fighters to support Syrian President Bashar al-Assad's troops since Syria's civil war broke out in 2012.
Many of the Hezbollah fighters are concentrated in Damascus and Homs, with smaller numbers in Aleppo and Hama provinces. It fights as a proxy army, mostly under the supervision of Iran's elite Revolutionary Guards.
Hezbollah Deputy Secretary-General Naim Qassem said this week that Sunday's parade was designed to show Hezbollah's backing of the Syrian regime.
"There is a high level of coordination between us and the Syrian leadership," Qassem said, adding that the military parade "was part of our field training."
Syrian state-run media did not comment on the Hezbollah military display.
But Syrian government supporters took to social media to express their anger, saying the parade was "provoking Syria's sovereignty."
Analysts say it is likely Damascus was not pleased by the Hezbollah show.
"This would make some in the [Syrian] regime uncomfortable," said Phillip Smyth, an analyst at the Washington Institute for Near East Policy.
VOA