Theresa May: US and Europe must keep up pressure on Russia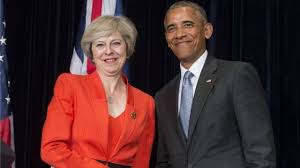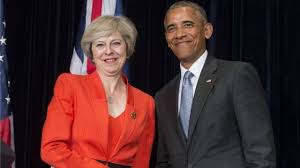 The UK PM met outgoing US President Barack Obama, German Chancellor Angela Merkel and four other European leaders in Berlin for talks.
Mr Obama urged them to work with his successor Donald Trump on the basis of shared "core values".
The PM also told Mrs Merkel that the UK's Brexit plans were "on track".
It came as the Supreme Court confirmed that Scotland and Wales's top legal advisers would be allowed to take part in an appeal hearing brought by the UK government against a ruling that it alone cannot trigger Article 50 – the formal process of leaving the EU – without a vote by MPs.
But BBC correspondent Jenny Hill said there were a number of issues on the agenda that took precedence over Brexit, including Syria, Russia's relationship with the West, international terrorism and climate change.
In a joint press conference with Chancellor Merkel on Friday, Mrs May said: "On Syria, looking at Aleppo, we are united in our condemnation of the atrocities that are taking place there.
"We agree on the need to keep up the pressure on Russia, including the possibility of sanctions on those who breach international humanitarian law."
US President-elect Mr Trump has criticised Nato and has spoken of his hopes of warmer relations between the US and Russia – but on Thursday Mr Obama warned him to stand up to Moscow if it deviated from US values.