No white smoke yet. Cabinet formation facing major hurdles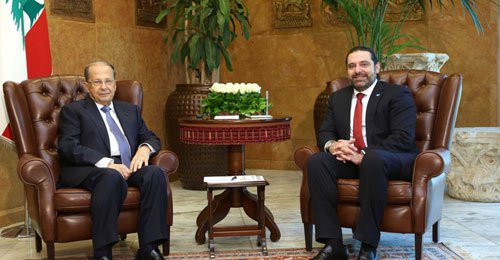 The government formation process is facing major hurdles and it appears that Prime Minister-designate Saad Hariri will have a hard time in meeting his target date of Independence day ( November 22) in finalizing the Cabinet lineup.
Hariri met President Michel Aoun on Wednesday who did not approve the draft line-up.
Hariri was reportedly shocked with the reaction of the President who told Hariri to leave the papers for him to study, "leave it here…I am grateful," said Aoun according to As Safir newspaper.
Some difficulties remain over the assignment of so-called sovereign and services-related portfolios.
According to media reports, a settlement has been reached under which the Lebanese Forces will be given the deputy premier post instead of a so-called sovereign portfolio.
Anther obstacle in the wrangling is revolving around Marada Movement's insistence to get one of three key portfolios – public works or energy or telecommunications.
Also the Lebanese Forces is objecting against including the Phalange party in the lineup .
Rumors circulating in Ain el-Tineh, claiming that: "The Free Patriotic Movement and the LF want to monopolize the Christians' shares based on a previous agreement between them, forgetting that other parties have nothing to do with it. They are not taking into consideration that others have allies too, and those are an essential part of this combination."
Aoun's election and Hariri's appointment as premier-designate have raised hopes that Lebanon can begin tackling challenges including a stagnant economy, a moribund political class and the influx of more than a million Syrian refugees.
Hariri was nominated by all the Lebanese MPs with the exception of Hezbollah.
Hariri may also face hurdles with his government's policy statement, which will have to make reference to Israel, as well as the war in Syria, both potential flashpoint with the Iranian backed Hezbollah militant group.