Brazil: Ex-Rio governor arrested in corruption investigation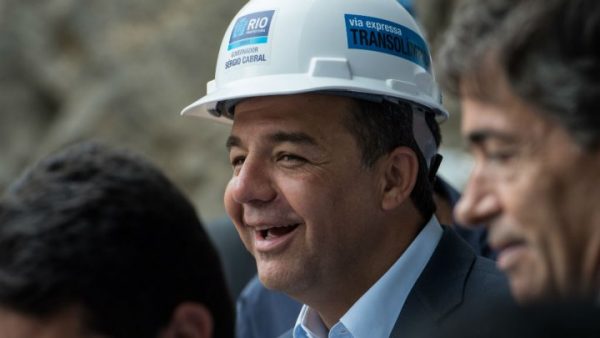 The former governor of Rio de Janeiro state was arrested on Thursday as part of a corruption investigation linked to football World Cup building projects that could fuel further political instability in Brazil.
Prosecutors accused Sergio Cabral of leading a group that embezzled 220 million reais ($64m) from public building schemes. He is one of the highest-profile politicians to be arrested in recent months in the two-year corruption probe known as operation "Car Wash".
Dozens of anti-corruption protesters hurled insults at him as he came out onto the street after Brazilian federal police arrested him at his home in Rio's up-market Leblon neighborhood.
He made no comment and his lawyers did not immediately respond to calls.
The Rio state prosecutor's office said in a statement that Cabral led a group of former officials and construction executives in a bribery scheme linked to public works, including the refurbishing of the 2014 World Cup Maracana stadium.
Operation "Car Wash", which initially centered on accusations of corruption at state-run oil company Petrobras, led to the political upheaval that ultimately toppled leftist President Dilma Rousseff earlier this year on charges of doctoring public accounts.
Cabral was a close ally of Rousseff and also a member of her successor President Michel Temer's Brazilian Democratic Movement Party (PMDB).
"Cabral's arrest is unlikely to directly hit the Temer administration, but it will fuel political instability as the investigation seems to be setting its sight at the PMDB and other parties," said Leonardo Barreto with Brasilia-based consultancy Factual Informacao e Analise.
Temer is pushing for unpopular austerity measures in Congress to regain the confidence of investors in a country struggling with its deepest recession in memory.
Cabral's arrest came just a day after another former Rio governor, Anthony Garotinho, was arrested for alleged voter fraud in a state that is struggling with a grueling fiscal crisis and anti-austerity protests.
The state that earlier this year hosted the summer Olympics is now facing difficulties paying its employees and maintaining basic public services such as security.
Cabral served as governor from 2007 to 2014, when he quit amid growing street demonstrations against him.
FRANCE24/(REUTERS)