Brexit and Trump powered by globalization fears, Obama says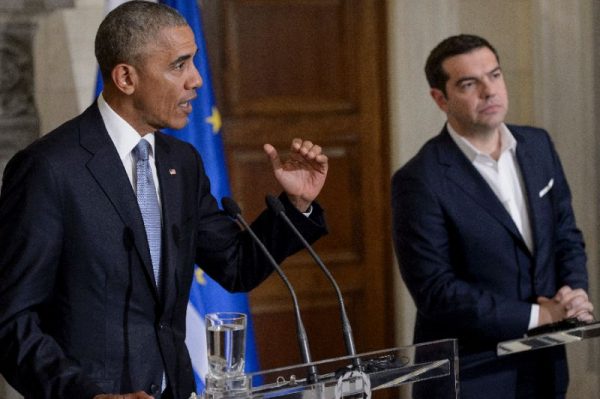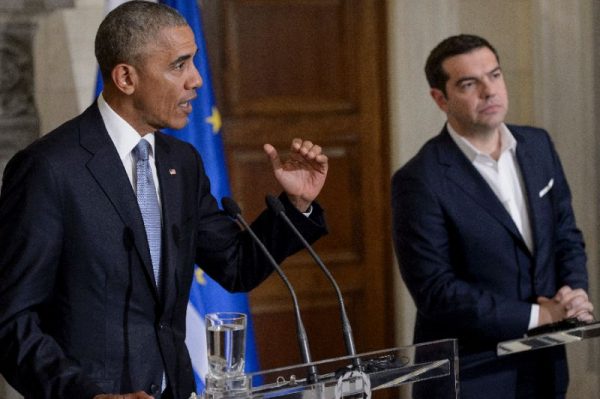 President Barack Obama said that fear of globalization and suspicion of government institutions and elites powered both the U.K.'s vote to exit the European Union and Donald Trump's election as the next U.S. president.
"Globalization combined with technology, combined with social media and constant information has disrupted people's lives" in both concrete and psychological ways, Obama said at a news conference on Tuesday in Athens with the Greek prime minister, Alexis Tsipras. "There's no doubt that has produced populist movements both on the left and the right in many countries in Europe."
The success of both Trump and Democrat Bernie Sanders in the U.S. elections also reflected populist movements that can carry with them dangers, he said.
"Sometimes that gets wrapped up in issues of ethnic identity or religious identity or cultural identity," he said. "That can be a volatile mix."
For the second time in two days, Obama found himself trying to explain Trump's surprise win in the Nov. 8 election, in which the Republican defeated Obama's preferred successor, Democrat Hillary Clinton. The president has begun a week-long tour that will take him to Greece, Germany and Peru, his last overseas trip while in office. He faces questions from other leaders about how a man Obama once said was unfit to be president is now poised to lead the free world.
Surprise Result
Obama said again that the election result had surprised him. He was not directly critical of his successor, in keeping with his resolve to make the transition to Trump's administration as smooth as possible, but warned that the world must "guard against a rise in a crude sort of nationalism or ethnic identity or tribalism that is built around and 'us' and a 'them.'"
"Did I recognize there was anger and frustration in the American population? Of course I did," Obama said in answer to a question about whether he saw parallels between Trump's election and Brexit. He noted a "mismatch" between his own popularity — his approval rating has been well above 50 percent for most of the year — and the election outcome.
American voters may have decided they "just need to shake things up," he said.
The lesson of the election, Obama said, is that "we have to deal with issues like inequality. We have to deal with economic dislocation."
Trump's Campaign
Trump's campaign was centered on a pledge to combat illegal immigration into the U.S., including by constructing a wall along the length of the U.S.-Mexico border and limiting the entry of Muslims to the country. He was criticized many times during the campaign for offensive remarks about Latinos, Muslims and other minorities.
He has recently come under fire for appointing Stephen Bannon to a high-level position in his White House. Bannon is the executive chairman of the Breitbart News website and a leading figure in the so-called "alt-right," a splinter political movement of nationalist, anti-immigrant and anti-establishment conservatives. Under Bannon's leadership, Breitbart published articles that critics charge promoted anti-Semitic, misogynist and white supremacist views.
Trump's campaign manager, Kellyanne Conway, defended Bannon to reporters on Monday and said she would not be associated with Trump had he embraced the "alt-right" ideology.
Obama declined to comment on Bannon's appointment in a news conference on Monday. On Tuesday, he more generally criticized political movements that revolve around dividing people by race, religion or class.
"I will never apologize for saying that the future of humanity and the future of the world is going to be defined by what we have in common as opposed to those things that separate us and ultimately lead us into conflict," Obama said on Tuesday. "Take Europe. We know what happens when Europeans start dividing themselves up and emphasizing their differences, and seeing a competition between various countries in a zero-sum way. The 20th century was a bloodbath."
Despite "all the frustrations and failures" of the EU, Obama said, "the last five decades have been a period of unprecedented peace, growth and prosperity in Europe."
The June 23 vote by the U.K. to exit the EU shocked political observers and defied warnings by British establishment politicians, foreign leaders, and global financial institutions. The new British prime minister, Theresa May, is still navigating a divorce that analysts expect will be costly and complicated.
The Brexit vote shook global markets, initially wiping out some $3 trillion in global assets, according to data from S&P global. During the presidential campaign, Trump predicted that his victory would be the equivalent of "Brexit plus." Nigel Farage, acting leader of the U.K. Independence Party and an architect of the Brexit vote, was an adviser to Trump and has said the two victories share a common revolutionary thread.
U.S. history is clear on the result when Americans "start dividing ourselves" based on race or religion, Obama said.
"It's dangerous," he said. "My vision's right on that issue. It may not always win the day in the short term, in any particular political circumstance, but I'm confident it'll win the day over the long term, because societies in which we are able to unify ourselves around values and ideals and character, and how we treat each other, and cooperation and innovation, ultimately are going to be more successful than societies that don't."
BLOOMBERG