Is Donald Trump's son-in-law the power behind the throne?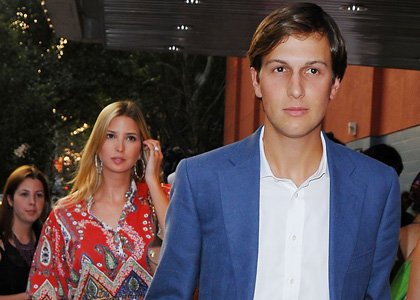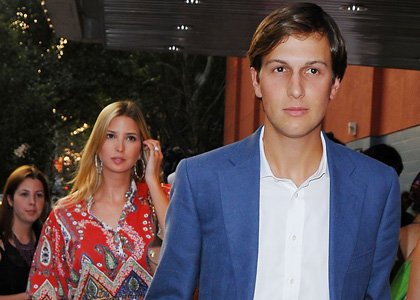 HE IS the smiling, Sphinx-like presence that propelled Donald Trump to victory. In the final anxious days of the campaign, Mr Trump was said to have taken comfort in "the soothing, whispery voice of his son-in-law" Jared Kushner, who could now be playing a far more significant role than soother-in-chief.
On Thursday, Mr Kushner was seen strolling in the White House gardens – one of a handful of people chosen by the president-elect to join him on his inaugural visit – and was seen deep in conversation with Denis McDonough, Barack Obama's chief of staff.
Many suspect that Mr Kushner, 35, will play a big role in the new White House team – possibly even taking over from Mr McDonough as the second most powerful man in Washington.
While some question the wisdom of appointing someone who has never been involved in politics before to such a role, Mr Kushner's reputation for ruthlessness cannot be in doubt.
He is believed to have been behind a series of moves to fire several high-profile campaign staff members.
And when New Jersey governor Chris Christie surprisingly failed to be appointed as Mr Trump's running mate, it was suggested that this was an act of revenge by Mr Kushner, after the lawyer successfully prosecuted his father for tax evasion 11 years ago.
On the face of it, Mr Kushner would appear to be the antithesis of his father-in-law. Vanity Fair described him as "the anti-Trump: well-mannered, reticent, self-effacing".
He is one of four siblings born in New Jersey to Charles and Seryl, brought up in the Orthodox Jewish tradition that Mrs Kushner grew up in. His grandparents, Joseph and Rae, survived the Holocaust in Poland and eventually emigrated to the US. Joseph, a carpenter, worked on construction sites until he earned enough money to develop plots of land with partners.
Charles Kushner took the fledgling construction business and ran with it. By the time Jared was born, the family was wealthy and his parents went on to become among the most prominent funders of Democratic politicians on the East Coast.
Jared Kushner went to Harvard – his father gave a $2.5 million donation.
Having been deeply involved in his father's business, he retained his focus and, as a sideline, he bought buildings in nearby Somerville, converted them into flats and sold them for a reported profit of more than $20 million.
In 2005, however, the gilded family crashed. Jared Kushner was 24 when his father pleaded guilty to tax evasion, witness tampering and offering illegal campaign donations.
The charges stemmed from an investigation into donations made to then-New Jersey governor Jim McGreevy's campaign. Charles Kushner was sentenced to two years in prison, paroled after one.
Mr Christie, then New Jersey's attorney general, prosecuted Charles Kushner. He had previously sought a longer sentence, claiming Kushner had failed to show "acceptance of responsibility".
Now Mr Christie has lost out on the vice-presidential slot despite reportedly having been assured by Mr Trump that it would be his, and received a further blow on Friday when he was removed as chairman of Mr Trump's transition effort.
While Mr Christie's term in New Jersey has been scandal-plagued, that never seemed to trouble Mr Trump in the past, leading to speculation that it is Mr Kushner's influence that has seen him relegated to the outskirts of Mr Trump's inner circle.
When his father was jailed, Jared Kushner stepped in to run the family businesses. In 2006, he bought the New York Observer, developing a side interest in publishing. He sought advice from Rupert Murdoch, who would go on to become a friend.
But there was a positive side to the tough times. In 2007, a property developer he knew arranged a business lunch with someone he thought may be useful to him: Ivanka Trump.
"They very innocently set us up thinking that our only interest in one another would be transactional," she told Vogue. The pair dated but split up. Then Wendi Deng, Mr Murdoch's then-wife, reportedly invited him on the family's yacht – only for him to find Miss Trump had been invited as well. They were reunited and married in 2009, and have three children.
When Mr Trump announced he was running for president, in June 2015, Mr Kushner became interested in the campaign – in particular, it is said, when he attended a rally and saw the passion of Mr Trump's followers. And Mr Trump became increasingly impressed by his son-in-law.
Mr Kushner has liaised with dozens of influential figures, including Henry Kissinger, Paul Ryan, Rupert Murdoch, and, until recently, Roger Ailes. But his public words were few. Indeed, his only intervention came when Mr Trump's team was excoriated for using a symbol of a star, with money and the words "Crooked Hillary" – the picture was seen as anti-Semitic and deeply offensive.
In response to the row, Mr Kushner published a letter titled "The Donald Trump I Know." He said that the tweet was an innocent mistake.
"America faces serious challenges," he wrote. "A broken economy, terrorism, gaping trade deficits. . . Intolerance should be added to that list. I'm confident that my father-in-law. . . will be successful tackling these challenges."
It seems likely that Mr Kushner will now be closely involved in helping him try to do just that.
Telegraph. UK.