Hariri hopes to form a government before Lebanon's Indepedence Day on Nov. 22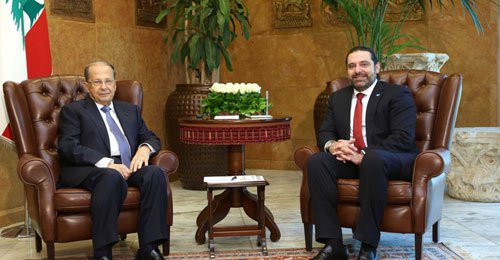 Lebanon Prime Minister-designate Saad Hariri ended his two days of  consultations with parliamentary blocs on Saturday  over the formation of a new government before meeting with President Michel Aoun.
"The atmosphere was positive. There was a lot of cooperation between me, Speaker Nabih Berri and President Michel Aoun . A lot of parties have asked for sovereign ministerial portfolios, but this is normal," Hariri told reporters after completing the consultations.
Hariri later headed to the presidential Baabda Palace to meet with Aoun to discuss the government formation, a task he hopes to accomplish as soon as possible. He left the palace after a couple hours without making a statement.
The PM-designate said that political parties will be represented in the Cabinet in proportion to the size of their parliamentary blocs. He expressed hope that a new government will be formed before Lebanon's Indepedence Day on Nov. 22.
Hariri arrived at Beirut's Nejmeh Square around 11 a.m. to begin the talks, which started with the two-member Syrian Social Nationalist Party.
"The government should prioritize the Lebanese people. Everyone knows the problems that our people face, and now the government should regain the trust of its society," SSNP MP, Asaad Hardan told reporters after meeting with Hariri.
The most important meeting of the day for Hariri was with Hezbollah's 13-member parliamentary  bloc. The bloc's leader Mohammad Raad said that they did not discuss ministerial portfolios with Hariri, but agreed on a "mechanism to follow up" on the Cabinet make-up.
"We welcomed [Hariri's] proposal of a national accord government which does not exclude anyone and we affirmed the priority of improving living standards and strengthening security," Raad added.
The Armenian bloc said they have asked Hariri to form a 32-member Cabinet in an effort to include all minority groups.
Ministerial and parliamentary sources said there was agreement in principle that the new Cabinet should comprise 24 ministers, with the possibility of expanding it to 30 ministers if the need arises to satisfy all blocs.
The PM-designate also held consultations with Al-Jamaa al-Islamiya and some independent lawmakers.
MP and caretaker Tourism Minister Michel Pharaon noted that ministerial portfolios do not belong to a single sect, stressing that the Cabinet positions should be open to everyone.
Hariri concluded the talks with his 33-member Future Movement bloc, with its leader Fouad Siniora calling on all parties to cooperate for a "national accord government."
"We are determined to have a government capable of working as a homogeneous team and we hope that it will be completed at the earliest possible time," he added.
One day earlier, Hariri kicked off consultations with Berri's  bloc, the Phalange party  bloc, the Change and Reform bloc and the Lebanese Forces bloc, among others.
Aoun had asked Hariri Thursday to form a new government after 112 out of 126 MPs endorsed him for the PM post