Media labels jailed ex-Brazil congress leader a 'suicide bomber'
He was already among the most reviled politicians in Brazil and now he is among the most feared.
Eduardo Cunha, the former speaker of the lower house of Congress who led the impeachment of a president while at the same time being accused of graft, was arrested two weeks ago on multiple corruption charges.
Speculation is rife he could take down hundreds of congressmen with him if he turns state's witness, leading local media to label him as a "suicide bomber" loaded with secrets which could implicate legions of legislators.
But there is just one catch: investigators and prosecutors say they would rather see Cunha, accused of taking at least $6.5 million in bribes, imprisoned for the longest time possible if he is found guilty. They only want to cut a plea bargain deal with him if he really offers proof against leaders at the highest level or on an extraordinary number of politicians.
Cunha is one of the highest-profile targets of "Operation Car Wash," a far-reaching investigation that centers on bribes and political kickbacks from contracts with state-run oil company Petroleo Brasileiro SA, or Petrobras. So far nearly 200 people have been charged in the case.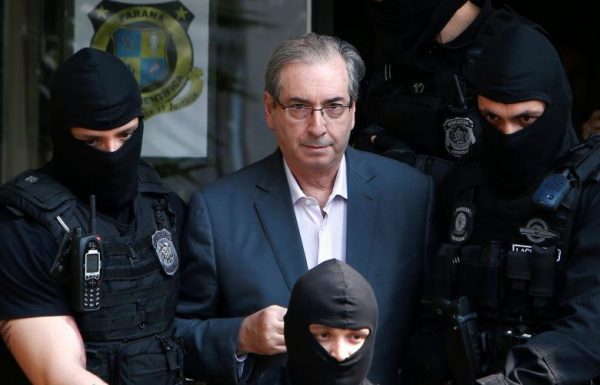 "Everybody wants us to sign a deal with Cunha, including newspaper columnists and editorials basically saying we have an obligation to do so," Carlos Lima, a lead prosecutor in the probe, told Reuters recently from his office in the southern city of Curitiba, where the investigation is centered.
"But I'm not going to trade Cunha for anybody less powerful than he was, unless he comes and offers up some 200 deputies (legislators) that were beneath him. Then perhaps it is possible."
Two other officials directly involved with the Petrobras probe agreed with that thinking.
They said that unless Cunha is able to provide evidence against senior ministers to President Michel Temer, or against the president himself, it is unlikely they would be willing to negotiate any plea bargain with Cunha, given the amount of bribes and wide-ranging graft he stands accused of committing.
"The moral cost of cutting a deal with Cunha would be enormous," said one source.
Another emphasized it would be difficult to reach a plea bargain with Cunha because they think he would only name certain politicians out of vengeance for either kicking him out of office or for somehow not protecting him from the Petrobras investigation.
"Cunha seems more like an extortionist of businesses, and with that money he sustained his own personal caucus in Congress," another source said. "I would have to be convinced he is telling the truth, that he is not hiding crimes of those loyal to him while trying to expose those who 'crossed' him. That gets complicated to sort out."
Marlus Arns, a Curitiba-based lawyer representing Cunha, did not respond to requests for comment about any possible plea bargain or charges against him.
Prosecutors also charged Cunha's wife, Claudia, in the case for alleged money laundering. That heightened expectations Cunha would press hard to be accepted as a state's witness and implicate a huge swath of the political establishment.
That he would sing to prosecutors is the hope of many Brazilians, who have watched with intense satisfaction as some of the nation's most well-known businessmen and political figures have fallen in a country where the powerful enjoyed impunity for corruption and other crimes for centuries.
"I understand that reasoning, I really do," said the prosecutor Lima. "But it is a question of whether Cunha can offer proof against somebody above him, and I am not certain that he can."
Polls showed that Brazilians overwhelmingly supported Cunha's expulsion from Congress in September on grounds that he lied about secret bank accounts in Switzerland.
ROAD TO IMPEACHMENT
In February 2015, Cunha, a member of Temer's Brazilian Democratic Movement Party (PMDB) that for a decade was the main member of the long-ruling Workers Party (PT) governments, defied the wishes of his own coalition to run for and win the speakership of the lower house of Congress.
Just six months later, he officially had broken with the PT government of former president Dilma Rousseff, saying that she was using the Petrobras investigation as a tool of "political persecution" against him.
As speaker, only Cunha could allow impeachment proceedings to begin against Rousseff, whom critics accused of breaking budgetary laws. He did just that in early December 2015, just hours after PT deputies cast deciding votes for Cunha to face an internal investigation before the House's ethics committee.
By May of this year, Rousseff was impeached and her Vice-President Temer installed as successor. But Cunha could not shake free of corruption allegations.
Temer distanced himself from Cunha and refused to throw him political lifelines, leading to the now constant speculation that Cunha will pull all possible PMDB skeletons out of the closet should he be granted a plea bargain.
Cunha himself, just after the vote that kicked him out of Congress, told journalists that "those who turn state's witness are criminals, and I am not a criminal."
But that was before his case was ordered by Brazil's Supreme Court to be sent to anti-corruption Judge Sergio Moro in Curitiba, the magistrate leading the Petrobras probe.
Moro has a reputation for moving through cases swiftly, handing down harsh sentences and of not having his decisions reversed on appeal.
Of the 84 people found guilty in the "Car Wash" probe by Moro, just one had his conviction overturned by a higher court – a 99-percent conviction rate, a statistic those who face him know all too well.
REUTERS