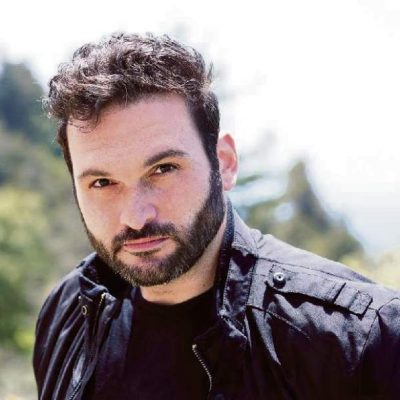 Nemr wants to defeat terrorism and save the world.
By: Tom Scanlon
Based on his name (which rhymes with "simmer") and his mission, you might think he's a comic book figure.
Close: He's a comic.
He aims to bring down ISIS through laughter.
"When you mock terrorists, that's how you defeat them," he said.
Born in Lebanon, Nemr Abou Nassar came to America in the 1980s to escape his native country's civil war. When things settled down there in the 1990s, his family returned to Lebanon, where as a young man Nemr launched his career as a one-name comedian.
After performing in front of thousands, becoming "Lebanon's King of Comedy" and helping launch a stand-up comedy scene in the Middle East, Nemr is on his first U.S. comedy tour.
If you come to see him in Pittsburgh at the Improv, be ready for perhaps the ultimate taboo: ISIS humor.
The "I word," Nemr acknowledges, is "a buzz killer." He says he realized this when he did a bit about the Bruno Mars line, "I'd catch a grenade for you" — adding "so the only way you can prove your romance is if you're ISIS?"
Audience members in Los Angeles clubs, he says, "would laugh right up to the word 'ISIS.'
"Saying the word 'ISIS' — people in America and the West, God bless them, think it's inappropriate to make jokes when people are dying."
So Nemr has learned to lay the ground rules for his uber-edgy style.
"I explain, 'Look, I'm American but I lived in the Middle East. So my comedy is aggressive. And there are going to be jokes where the punchline is ISIS.'
"The best time to laugh is when people are dying."
His homeland, Nemr says, is a model that should give hope to war-ravaged Syria.
"When we're out of the headlines it's a good thing," says Nemr, who has homes in both Beirut and Los Angeles.
Lebanon, he swears, is "one of the best places on Earth. It's very safe — despite that we're on the border with Syria and we've taken in 3 million refugees from Syria."
Official numbers are between 1 and 1.5 million Syrian refugees in Lebanon, but it's still a huge number for a small country.
He says Lebanon has rebounded from its own Syria-like troubles. "After the brutal civil war, people came together. … A new generation has rejected the ways of our parents and our parents' parents, where people used to get in fights over religion."
By 2006, Lebanon was safe enough — militarily and culturally — for Nemr to start a comedy career. Or, as he calls it, "a lifelong mission. I'm about 20 percent done with it."
"What we've learned in Lebanon and the Middle East is comedy is a lot more powerful than bullets.
"For instance, when ISIS was trying to come into Lebanon, we would make jokes and humiliate them. That was what pretty much destroyed their resolve. … It then reinforces the spirit and it's very gangster, to be laughing in the face of your enemy."
He says he is far from the only one laughing at ISIS. "Everyone (in Lebanon) mocks ISIS on a daily basis — from the kids to the parents to the comics to the newscasters on a daily basis. The Lebanese spirit is a very powerful one."

As mind-blowing as Nemr's terrorist jokes are, it should be noted that much of his set is decidedly uncontroversial, with funny stories about his family. His father's sarcastic response when Nemr told him he wanted to be a comedian: "Oh, you're going to be a clown!"

Though Nemr doesn't get much into American politics, he does have a joke about some Arab-Americans favoring Trump.
"You know why, right? Because they're tired of their relatives coming over!"
There is method to his comic madness, Nemr swears.
"I'm trying to change the world," says the leader of a wave of young Arab comedians. "I believe we have the power to make a huge impact."

Tom Scanlon is a Tribune-Review contributing writer.
TRIBUNE LIVE