ISIL mass executing civilians and using them as 'human shields' in battle for Mosul: UN report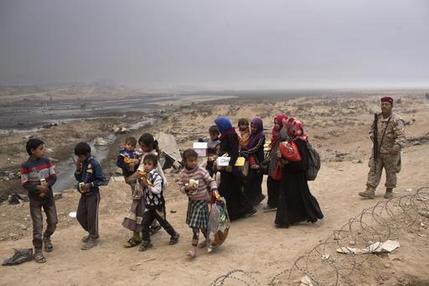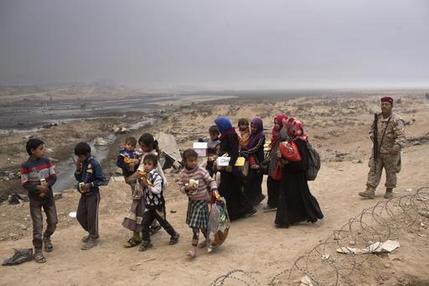 As Iraqi Government forces close in on Mosul, the United Nations human rights wing said today that it continues to receive reports of grave violations against civilians, including extrajudicial killings and summary executions, by Islamic State of Iraq and the Levant (ISIL/Da'esh) extremists.
"We also continue to receive information that reinforces the belief that ISIL are deliberately using civilians as human shields – forcing them to move to sites where ISIL fighters are based, or preventing them from leaving other places for strategic reasons," said Rupert Colville, Spokesperson for the Office of the UN High Commissioner for Human Rights (OHCHR) at the regular news briefing at the United Nations Office at Geneva (UNOG).
Noting the difficulties in verifying all the reports OHCHR is receiving, he citied some "preliminary" though not definitive examples, including, among others, that human rights staff in Iraq have been informed that ISIL killed 15 civilians in Safina, a village around 45 kilometres south of Mosul, and threw their bodies in the river – apparently in an attempt to spread terror among the other residents.
"On the afternoon of 19 October, in the same village, ISIL reportedly tied six civilians to a vehicle by their hands and dragged them around the village, apparently simply because they were related to a particular tribal leader fighting against ISIL alongside Iraqi Government forces," underscored Mr. Colville, adding that the six men were also allegedly beaten with sticks and gun butts. "It is not clear what happened to them subsequently," he affirmed.
The following day, 20 October, Iraqi security forces reportedly discovered the bodies of 70 civilians inside houses in Tuloul Naser Village which is located in the same sub-district, some 35 kilometres south of Mosul City. The bodies had bullet wounds, but it is not known for sure at this point who was responsible for the killings.
According to the human rights Office, ISIL fighters were reported to have shot dead three women and three young girls, and wounded a further four children from Rufeila, a village in the al-Qayyarah sub-district, which also lies to the south of Mosul on Saturday, 22 October.
"The victims were allegedly shot because they were trailing some 100 meters behind a group of other people from the same village who were being forced by ISIL to relocate to another sub-district," elaborated the OHCHR spokesperson. "The victims were lagging behind because one of the children had a disability," and, "she was apparently amongst those shot and killed."
On Sunday, ISIL was reported to have killed 50 former Iraqi Police Officers that they had been holding outside of Mosul City.
"We very much fear that these will not be the last such reports we receive of such barbaric acts by ISIL," continued Mr. Colville, "and repeat our call on Government forces and their allies to ensure their fighters do not take revenge on any of the civilians who escape from areas under ISIL control, and treat all suspected ISIL fighters they capture in accordance with international humanitarian law."
He also expressed concern over the severe measures that Kirkuk authorities were taking against internally displaced people living in the city – following the surprise ISIL attacks carried out there on Friday, 21 October.
"In the morning of 23 October 2016, the Security Committee of Kirkuk Governorate and Asayish Forces issued a decision – with immediate effect – ordering all internally displaced people who have been living outside camps in Kirkuk, to vacate their residences by 8:00 a.m. the following day – yesterday morning," the OHCHR spokesperson stated.
The order specifies that if the internally displaced people did not comply, they would be compelled by force to vacate their residences, which would then be demolished. The only option given to those who wish to stay in the Kirkuk area is to move into established camps that are either already full or very close to it.
"We understand that hundreds of families have now been evicted by Kurdish Security Forces, and are worried that if the evictions continue, it could significantly complicate the already alarming situation of mass displacement in the region," lamented Mr. Colville.
While fully understanding the authorities' security concerns in the wake of the murderous ISIL attacks, OHCHR pointed out that such evictions should be reasonable and only carried out as a last resort when no other alternative is available.
The spokesperson emphasized that any such decision should be proportional, and not based on any discriminatory basis.
"Adequate alternatives should be fully in place, with preparations and consultations taking place prior to any such evictions, so that the displaced people – who have already suffered a great deal – are not further victimized because of the actions of ISIL, over whom they obviously have no control or influence whatsoever," concluded Mr. Colville.
UN.ORG