Lebanon's Solidere rises to 2014 High on Bets for New President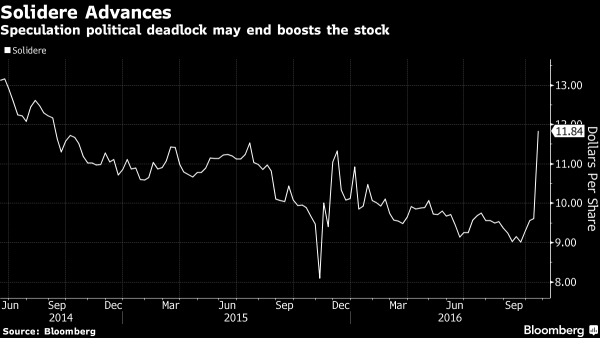 Solidere, Lebanon's largest property developer, rose to a two-year high on speculation the country is close to ending the deadlock that's left it without a leader since 2014.
The Beirut-based company climbed as much as 13 percent before dropping back to end the day up 0.8 percent at $11.84, the highest level since September 2014. That takes the stock's winning streak to five days, the longest since November 2015, when there was similar investor speculation that political leaders would agree on a presidential candidate. Traders exchanged 358,000 shares on Thursday, the most in more than four years.
Former Prime Minister Saad Hariri will endorse ex-army general and lawmaker Michel Aoun, an ally of the Iranian-backed Hezbollah group, in a televised speech at 5 p.m. local time, according to Future TV, a station owned by the Hariri family. The nomination would tip the balance in favor of Aoun's nomination as president, potentially ending a deadlock that began in May 2014, when the last leader's term concluded.
An end to the standoff would come as a relief to the Arab world's most indebted nation. Beset by sectarian crises and regional proxy conflicts, Lebanon's $51 billion economy has buckled as more than a million refugees entered the country to escape the Syrian conflict, which has blocked the nation's only overland trade route and kept Gulf Arab tourists away.
"The probability of electing a president has increased and people are trading on the back of that," Faysal Barbir, a Beirut-based director of the capital markets division at FFA Private Bank. Solidere "trades as a political proxy rather than a real-estate company," and a resolution to the presidential deadlock would see the share price rise to its fair value, which is between 40 to 50 percent higher than Wednesday's close, Barbir said.
The stock has gained 24 percent during the five-day rally, leaving its 14-day relative strength index at 80, above a level that some analysts see as a sign the stock has risen too quickly.
Solidere was founded in 1994 by late Prime Minister Rafiq Hariri, Saad Hariri's father, to rebuild Beirut's city center.
BLOOMBERG