Nigeria's NLC shuts down Lebanese firm Artco over sacking of 128 employees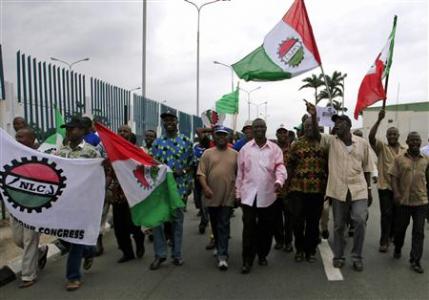 THE leadership of Nigeria Labour Congress, NLC, yesterday led workers to shut down operations at a Lebanese Firm in Abuja, Artco Industries Limited for alleged anti-labour activities and violations of labour law in the country, Vanguard , a Nigerian publican reported on Saturday.
The Report added:
The National President of NLC, Comrade Ayuba Wabba, while addressing workers on the 2016 World Decent Day with the title 'End Corporate Greed', said that the NLC decided to picket the Lebanese company because the management refused to recall sacked 128 workers of the company despite a judgment of the Industrial Arbitration Panel and the intervention by the Minister of Labour and Employment, Dr. Chris Ngige, on the matter.
The management of the Lebanese firm was said to have sacked Chairman of the Civil Engineering, Construction, Furniture and wood workers, Mr. Alokwe Anisectus, and127 others for allegedly participating in the protests against fuel pump price and electricity tariff increase. 
Condemning the action of the company's management, Comrade Wabba said NLC would continue to occupy the premises of the company until the workers were recalled, adding that the NLC would not allow any company to enslave workers in violation of decent work environment and Labour laws.
Wabba also frowned that only the poor in the country pay tax, stressing that the Panama papers revealed that big businesses and the elite were evading tax payment in the country.
Meanwhile, NLC in Anambra State also called on the Federal Government to declare a state of emergency on workers' welfare in view of the worsening conditions of living.
Addressing reporters on the activities marking this year's "World day for decent work" in Awka yesterday, the state chairman of NLC, Comrade Jerry Nnubia observed that the emolument of the Nigerian worker had been seriously diminished by the prevailing economic recession in the country.
According to Nnubia, the current N18000 minimum wage for the public sector worker which was approved when a bag of rice was N9,000, is still the same wage they receive at a time the cost of a bag of rice is N23,000.
He argued that increasing workers' emolument should be one of the main concerns of government to cushion the effects of the recession on them and their families.
He said: "Declaring a state of emergency on workers' welfare in the country is one sure way to get it right because the condition of the Nigerian worker is nothing to write home about."
"Looking at the cost of living in the country, the worker is the worst hit. Cost of goods and services is hitting the rooftops each day, while the worker still receives peanuts. The condition of the typical Nigerian worker is pitiable. There are no adequate plans for health scheme for the workers and this increases preventable deaths among them.
Vanguard Media Limited