British pound drops to 31-year low on fears of 'hard' Brexit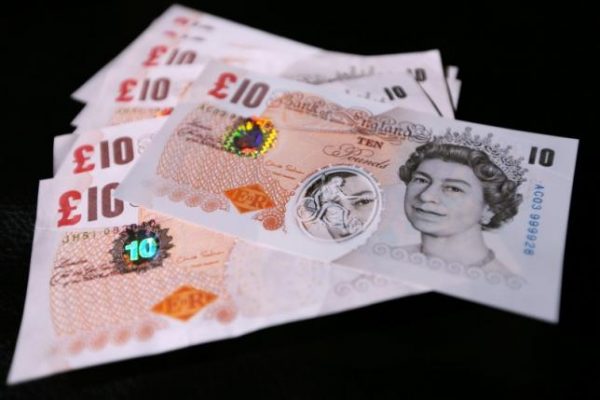 Britain's pound slumped to a three-decade low on Tuesday as concerns over Brexit were compounded by the renewed strength of the dollar on resurgent U.S. interest rate hike expectations.
Sterling was at its weakest since 1985, hit by a growing sense that the UK may be heading for a 'hard' Brexit where it severs links to the EU's single market in favour of total control over immigration.
Robust construction data couldn't prevent another 0.7 percent fall for the pound as it extended Monday's heavy tumble to wallow at $1.2750 and a three-year low of 87.50 pence per euro.
"It is now abundantly clear that access to the single market is not on (UK Prime Minister) Theresa May's list of top priorities and the market is realising that… there is more pressure for the pound in the weeks and months ahead," said UniCredit's Global Head of FX Strategy, Vasileios Gkionakis.
Not everything headed south though. London's FTSE cheered the idea of a weaker pound boosting firms' exports as it rose 1.6 percent, past 7,000 points and on course for a new record high.
Europe's other big bourses were higher too though they had lost some of their early swagger ahead of the open on Wall Street, which was expected to be broadly flat.
Banking sector jitters remained. Deutsche Bank gave back half of an early 3.2 percent rise as Italy's UniCredit – the region's worst-performing major bank this year – also fell on general worries about Italy's financial system.
"The issues that we have been fearful of with the banks are still very much front and centre," said Gary Paulin, the global head of equities at brokerage Northern Trust.
"The broader issue of capital is still one that needs to be addressed. There is still a lot of uncertainty there, and it is still a very dangerous place to be."
Asian shares had finished modestly higher overnight led by a 0.8 percent rise from Japan's Nikkei as the stronger dollar muscled the yen lower.
A surprise rate cut in India at Reserve Bank of India Governor Urjit Patel's first meeting in charge lifted its shares and bonds too and took the total number of rate cut globally since the start of 2015 above 200.
Dollar strength
The dollar's revival was the day's other main driver.
Manufacturing data had surprised on the upside on Monday and a number of Fed officials are due to speak later. Futures markets are now pricing in a more than 60 percent chance again that the Fed will nudge up its rates before year-end.
Royal Bank of Canada said its U.S. economic surprise index was finally starting to stabilise after a two-month run of negative news.
The main economic indicator this week is Friday's nonfarm payrolls report. Employers are expected to have added 170,000 jobs in September, according to the median estimate of 59 economists polled by Reuters.
The dollar index, which tracks the currency against a basket of six major peers, was testing a near two-month high at 96.213 as individually the greenback climbed to 102.44 yen and $1.1165 per euro.
Bond markets were more mixed. U.S. Treasuries steadied at 1.62 percent after two days of rises, UK Gilt yields nudged up to 0.75 percent, while Italy's first 50-year bond sale squeezed up southern euro zone yields.
Among commodities, oil prices took a breather following sharp gains overnight as Iran urged other oil producers to join OPEC in supporting the market.
There was also news that Iran and Libya have both continued to increase output. U.S. crude was down 0.6 percent at $48.57 a barrel after closing up 1.2 percent on Monday. Brent was down 0.4 percent at $50.68 after a 1.4 percent gain.
Gold fell to its lowest in over two weeks meanwhile, as the dollar's strength dulled its appeal, leaving it as low as $1,308.
"Despite the fact that we saw different types of crisis from Deutsche Bank to Brexit, we can see that prices haven't gone beyond the resistance at $1,350," said Mark To, head of research at Hong Kong's Wing Fung Financial Group.
"It is a pessimistic sign that even the speculators could not capitalise on the so-called bad news."
Elsewhere, Australia's dollar barely budged and its shares ended 0.1 percent higher after the country's central bank kept its main interest rate at 1.5 percent after cuts in May and August.
"We think the case for no more cuts is strengthening," said Paul Bloxham, chief economist Australia at HSBC. "Economic growth is strong, commodity prices have risen, and the drag from the mining investment decline is set to fade."
FRANCE24/(REUTERS)