Iran's supreme leader tells Mahmoud Ahmadinejad don't run again for president


With political pressure mounting on Iranian President Hassan Rouhani ahead of elections next year, Tehran has been abuzz with rumors that combative former leader Mahmoud Ahmadinejad was considering a comeback.
Not so fast, Iran's supreme leader said Monday.
Ayatollah Ali Khamenei, the most powerful figure in Iran, told an audience that Ahmadinejad had asked his advice on whether to run for president next May, and that he had responded that it was "not in the best interests of the country."
"Society is divided," said Khamenei, according to the semi-official Fars news agency. "Unity among officials and people should prevail."
The comments were seen as the last nail in the political coffin for Ahmadinejad, the populist conservative who was one of the West's most reliable antagonists during his eight years in office.
How Iran's middle class pushes back against Iran's theocracy »
Ahmadinejad was elected in 2005 and secured a second term in a disputed 2009 election that triggered the biggest protests since the 1979 Islamic Revolution. In the ensuing security crackdown, opposition leaders say dozens of people were killed and as many as 4,000 arrested.
Prone to conspiracy theories and controversial statements, Ahmadinejad frequently railed against Israel and once told a U.S. audience that there were no gay people in Iran.
He was barred by law from seeking a third consecutive term, but is eligible to run again after Rouhani's term.
Ahmadinejad's spotty domestic record made his comeback a long shot. His policy of giving cash handouts to the poor contributed to runaway inflation, further weakening an economy battered by international sanctions related to Iran's controversial nuclear program. And he clashed with Khamenei while in office, a cardinal sin in Iranian politics.
Yet some conservative hard-liners had begun to see him as a possible challenger to Rouhani, a moderate who has sought to mend relations with the West.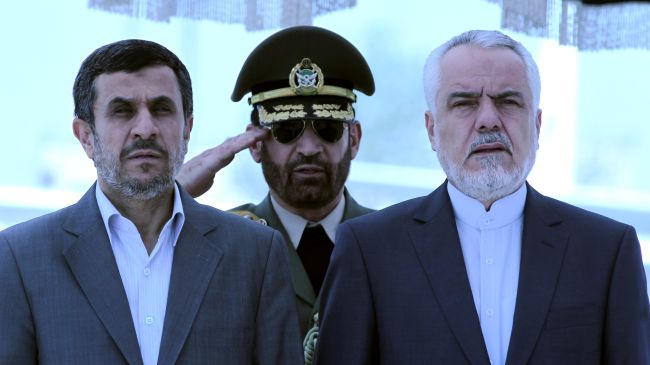 Rouhani finalized the agreement with the United States and other world powers to curb Iran's nuclear program in exchange for an easing of sanctions.
Although the nuclear deal remains broadly popular here, Iran's economy has failed to rebound, prompting growing criticism of Rouhani from conservatives.
Earlier this month, Gen. Qassem Suleimani, the popular commander of Iran's elite paramilitary Quds Force, suggested that he would not heed calls that he run for president, saying he wanted to "remain a soldier."
The news has begun to clear a path for Rouhani's reelection. Iran's theocracy prizes the stability of a two-term presidency, and analysts say a Rouhani administration is more likely to attract foreign investment that the economy needs desperately.
Pro-reform analysts were buoyant and hoped the prospect of a second Rouhani term would galvanize turnout among moderate voters, analyst and journalist Nader Karimi Juni said.
"A high turnout would change the path of the revolution," Juni said.
LA TIMES