Rifi: Both Aoun and Franjieh are committed to Hezbollah project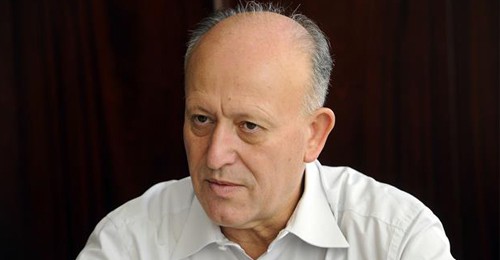 Resigned Justice Minister Ashram Rifi urged Future Movement to drop its support for Marada chief MP Suleiman Franjieh for the presidency .
"Adhering to the election of Franjieh would be correcting a mistake by making another one,"
National News Agency quoted him as saying on Wednesday in reference to former PM Saad Hariri's backing for Franjieh
"MP Franjieh and General Michel Aoun are equal in their commitment to Hezbollah's project that is threatening the state and its institutions. If any of them gets elected, they would secure a cover for the role played by Hezbollah as a proxy for Iran in Lebanon and the region. Electing any of them will not be a consensus settlement but a surrender," Rifi stressed.
"We urge everyone to withdraw their nomination for Franjieh and Aoun "," he said.
Similarly Phalange Party leader MP Sami Gemayel reiterated Wednesday during an interview on MTV that his party cannot vote for any presidential candidate that endorses the March 8 camp's political vision for the country.
"We refuse to vote for any candidate endorsing March 8's project," said Gemayel when asked about reports that he supports the nomination of Marada Movement chief MP Suleiman Franjieh.
As for the nomination of Free Patriotic Movement founder MP Michel Aoun, Gemayel called on the head of the Change and Reform bloc to "return to his 2005 stances."
"We must all return to our roots. We belong to the school of the Lebanese Front, the school of nonnegotiable sovereignty," Gemayel added.
The assassination of former Lebanese PM Rafik Hariri in 2005 sent shockwaves through Lebanon and led to the birth of the Cedar Revolution , the March 14 anti-Syrian alliance and to the end of three decades of Syrian occupation.
"We want a president who can neutralize Lebanon in the Sunni-Shiite conflict and who would reject dragging Lebanon into regional conflicts," Gemayel went on to say.
The Lebanese parliament failed again September 8th and for the 44th time in a row to elect a president to replace Michel Suleiman whose term ended on May 25 , 2014.
As in the past sessions the parliament was unable to reach a quorum because the Iranian-backed Hezbollah militant group and its ally MP Michel Aoun's Change and Reform bloc MPs boycotted the session, because they could not reportedly guarantee Aoun's election as a president.
Amal Movement leader, Speaker Nabih Berri a key ally of Hezbollah postponed the election to September 28.
Hezbollah deputy chief Sheikh Naim Qassem ( usually referred to as No. 2 ) admitted on Sunday that his party is behind the obstruction of Lebanon presidential election when called on The Future Movement to "end its hesitation" and agree to back Aoun's presidential bid claiming that that Hezbollah's MPs would immediately end their boycott of the electoral sessions in order to vote for Aoun.