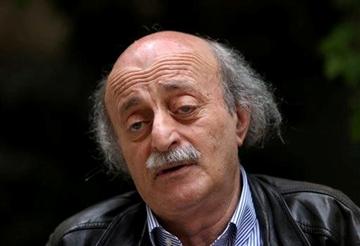 Lebanon woke up to the details about the news of  a plot to assassinate progressive Socialist  Party leader MP Walid Jumblatt.Both Israel and Syria are reportedly behind the plotAccording to Lebanese media reports Jumblatt fired Salah Bteddini , who has been the top PSP official responsible for the security of the Shouf region including the security of the PSP chief  and his palace in Mukhtara .Jumblatt reportedly fired  Bteddini  following the death  of Hafez Azzam , who was  Bteddini's assistant  responsible for security in the Should town of Ain Zhalta . Azzam reportedly was killed on August  23 and   Jumblatt reportedly held Bteddini accountable  for the incident that followed   Azzam's death.

Jumblatt also fired  another  security official who is a relative of Bteddini

This development also comes after investigations   by Lebanese   Judicial authorities of a former PSP official,  Youssef Munir Fakher ( also known as Cowboy)  . The investigation revealed  that  Fakher was collaborating with  Mandi al-Safadi  for plotting to assassinate Jumblatt .  Safadi reportedly worked directly with the office of Israeli Prime Minister Benjamin Netanyahu. Israel reportedly wanted to get rid of Jumbaltt to create chaos and divisions in the region and wanted to use the Druze community to guard its borders .

Syria too appears to be behind the plot to assassinate Jumblatt.

Lebanese judge Thursday indicted 2 men for plotting to assassinate  Jumblatt at the behest of Syrian intelligence.

In an indictment, First Military Investigative Judge Riad Abu Ghaida requested the death penalty for Lebanese national Youssef Munir Fakher and Syrian national Mohanad Mousa for working with Syrian intelligence in an attempt to kill the Druze leader and members close to him by November.

The indictment said that Fakher admitted to having longstanding ties with Syrian intelligence members dating from their military dominance of Lebanon – all the way back to the days of former intelligence chief Ghazi Kanaan, who headed operations in the country.

"We spoke via Facebook about five months ago and discussed the current situation in Syria, [among other things]," Fakher told the court.

Fakher, known as "Cowboy" during the Civil War, was contacted by Mousa when the latter told him he wanted to "get rid of Jumblatt," the statement said. Fakher supported Mousa's move because he saw it as a chance to compensate for his 30-year exile from Lebanon.

According to Fakher, Mousa told him: "Jumblatt will die before November 2016 and maybe earlier. The Syrians are not convinced of Walid Jumblatt, and the Russians have separated themselves from him." However, Fakher denied having a role in the assassination plot, saying he was only in contact with Mousa via email.

"I will take revenge on those responsible for my exile from Lebanon for 30 years," he said. When the judge asked what he was implying, Fakher responded, "I mean Walid Jumblatt and those affiliated with him, including Nashaat Abou Karoum." Abou Karoum is a high-ranking PSP official in Beirut.

Fakher, who also has American citizenship, was a key  PSP figure in Beirut between 1970 and 1980, but left Lebanon at the end of the Civil War in 1990.

"Cowboy" was also accused of working with Syrian opposition member Haitham Kodmani, who currently lives in the United States, to form armed militant groups in Lebanon in  2012. The armed groups were supposed to take over border towns and international roads in order to help Syrian opposition forces move to and from Lebanon near the Syrian border town of Jabal Mohsen, which Bashar Assad was close to losing before Hezbollah forces stepped in.  Fakher and Mandi al-Safadi were also accused of collaborating with Israel to provide Syrian opposition forces with financial aid and equipment. Safadi worked directly with the office of Israeli Prime Minister Benjamin Netanyahu. The men were held on charges of forming a militant group to carry out terrorist attacks, undermining the government, and conspiring with the Israelis.

The men were also accused of providing military, financial, and logistical support to the Syrian opposition, and smuggling fighters between Lebanon and Syria, and could face life imprisonment with hard labor.

During Fakher's last two visits to Lebanon, he was ordered to buy weapons, form a militant group, and create divisions among the Druze community.

General Security arrested Fakher in August, days after his arrival from the U.S. He was referred to the Military Tribunal to be tried.

This is a developing story , more to follow ….
Former PM Saad Hariri praised the authorities for foiling the plot to assassinate Jumblatt. He tweeted yesterday :


In a another tweet he linked Lebanon's security to Jumblatt's security:

The Druze community
The Druze communities, like many other minorities in the Middle east , face difficult circumstances today. The regimes that governed them for decades and granted them freedom of practicing their religion in exchange for their loyalty are falling apart. If the Druze maintain their allegiance to them, they could meet the same fate as Iraq's Yazidis and Christians, who have been subjected to abuse and discrimination by the Islamic State (IS) and Nusra Front.

Jumblatt is calling on the Druze in neighboring Syria to support the opposition and to engage with the surrounding community — that is, the Sunnis. But a large part of the community has not taken Jumblatt's advice, for fear of persecution by the extremist Islamist groups. The stakes are high, but this is not the first time the Druze have reportedly faced the game of nations, according to analysts . "They paid a heavy price, but they survived thanks to their will to live on their land in dignity ".