Why This Lebanese Street Food Is Gaining Traction in the U.S.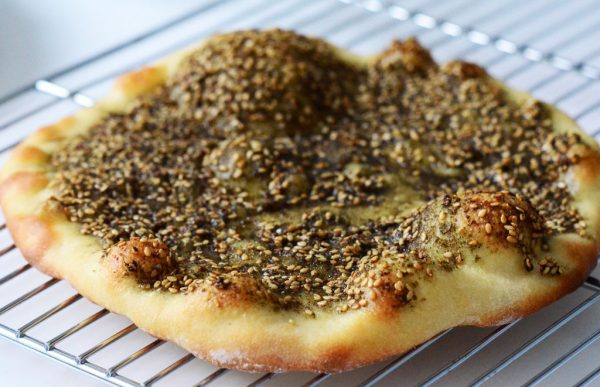 In Lebanon, the manoushe is omnipresent — a flatbread best served fresh from the corner bakery's oven and eaten on the go. It's typically slathered in zaatar, a thyme herb mix with sesame seeds, often with dollops of labneh, a tangy thick yogurt. Despite the waves of Lebanese immigrants who have immigrated to the U.S.and made manoushe at home or at local bakeries, it has yet to be widely available to the general public.
But that's changing. A handful of immigrant entrepreneurs have launched manoushe-centric businesses in city centers across the country geared towards a diverse customer base—and they're flourishing.
"Somebody needed to do it," laughs Ziyad Hermez, 32,the owner of Manousheh NYC, New York City's only "manousherie" (falafel, hummus, and other regional staples like baba ganoush, are not on the menu). At the tiny, sleek, glass-front eatery — which opened in March 2015 in the trendy West Village — a carefully curated mix of American indie-pop songs and Arab classics play over the speakers. Hermez and his employees dress casually, speaking in English with a sprinkling of Arabic. Customers range from curious passersby who probably couldn't locate Lebanon on a map, to NYU students, to natives of Lebanon and the surrounding region who are living or traveling in New York.
A young woman visiting from Lebanon nibbles on a manoushe. "If I close my eyes, it's like I'm in Beirut," she says.
Amid the scent baking bread, which wafts from the colossal central oven, Hermez, who is of Lebanese descent but grew up in Kuwait, explains that the inspiration for Manousheh NYC was simple: Longing. When he moved to Washington, D.C., for college in 2002, he was astonished he couldn't find a fresh baked manoushe (sometimes spelled manousheh, mana'oushe, man'oushe, and man'oushé in English). The hunt continued when he moved to New York City and was working in IT.
He missed the taste of a freshly baked manoushe and the intimate experience of walking into the neighborhood bakery that sold them. And he felt New York City was ripe for a manousherie; the flatbread isthe perfect snack—like a slice of pizza, a bagel, or falafel—for busy city dwellers eating on the go.
Today, business is brisk. Each manoushe at Manousheh NYC sells for $5 to $8, and customers can choose from a number of styles, including a daily special and "lahem bi ajine," which is topped with minced beef, tomato and spices. Hermez estimates he sells an average of 200 manaeesh (the plural of manoushe) per day.
Over on the West Coast, Reem Assil has been selling manaeesh at pop-ups, catered events, and a local farmer's market in San Francisco for several years. She offers a few non-standard artisanal toppings like pickled turnips, but uses the traditional, albeit slow, domed saj grill, which is similar to an upside-down wok. At the farmer's market, customers of all types patiently wait in line.
"We're making a little extra effort to translate, but not water it down," she explains.
Fortune