US economy could lose up to 5 % if Trump is elected , report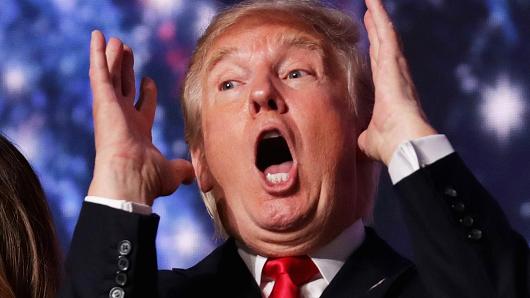 A win for U.S. presidential candidate Donald Trump could have grave implications for the world's largest economy, according to Oxford Economics.
If Trump were able to implement all of his proposed policies, that would undermine global economic growth and knock 5 percent off U.S. gross domestic product (GDP), U.K.-based economists Jamie Thompson and Sarah Maxwell said in a note Tuesday.
"The consequences are far-reaching," the economists said.
In what the economists call their "adverse Trump scenario" of substantially all of the Republican candidate's stated policies being enacted, the slowdown would be far deeper than in a scenario of partial policy enactment and growth would remain subdued longer.
That would be partly due to the impact of Trump's trade and immigration policies on potential supply of economic inputs, such as labor and raw materials.
"Towards the end of the five-year forecast, U.S. GDP falls to a level around 5 percent below baseline. And the anticipated recovery in global growth is significantly undermined," the report said.
The most direct impact would come from trade policies which would impose high tariffs on Chinese and Mexican goods, which may also have knock-on impacts on other countries, the report said.
"If U.S. businesses and consumers were to switch away from higher priced Mexican and Chinese imports following the imposition of tariffs, some other emerging market economies might initially benefit," the report said. "They might then suffer if the U.S. were to respond by raising tariffs on a broader set of emerging market economies. U.S. exporters would most likely suffer as well, as impacted emerging market economies retaliate."
The trade policies would also take a bite from U.S. businesses and workers, the report noted, citing 2011 estimates from the Federal Reserve Bank of San Francisco indicating U.S. services account for more than half of every dollar spent on China-produced items.
Supply chains would also be hit as they increasingly cross national boundaries, particularly in the auto industry, the report said. It noted that some estimates indicated cars built in North America have their parts cross U.S. borders eight times during production.
Additionally, U.S.-produced materials accounted for around 40 percent of every dollar spent on Mexican goods imported into the U.S., the report said.
On an indirect basis, those policies would also impact productivity, in part because of the effects on the quality and variety of inputs available to domestic producers.
On tax policies, the report noted that the timetable of implementation wasn't clear, but Trump's proposed fiscal changes would initially stimulate demand through tax cuts and then have increasingly contractionary effects on the U.S. economy amid harsh government spending cuts.
Trump's plan to deport the estimated 10.9 million to 11.3 million illegal immigrants in the U.S. at an estimated cost of around $10,000 per head would weigh on consumer and investment expenditure, the report said.
"The reduction in population size, equivalent to around 5 percent of the workforce, would also represent a material drag on U.S. labor supply," it noted.
The indirect effects of Trump's policies would also be substantial, particularly on confidence, the report said, noting that just the Republican candidate winning the election would be "highly unexpected."
"This would transmit the shock across the globe, affecting not just countries directly impacted by the policies and not just businesses with significant direct trade exposures to the U.S., Mexico and China," the economists said. "A weakening in confidence would most likely result in the scaling back of business investment plans, accompanied by the postponement of major household purchases."
Oxford Economics said a Trump victory would likely be accompanied by significant market turbulence and shifts in monetary policy. If there were indications that a potential President Trump would impose his proposals on restructuring U.S. government debt, that would amplify the turbulence and result in a spike in government bond yields, the economists said.
The Trump campaign didn't immediately respond to an emailed request for comment sent outside office hours.