"Hezbollah terrorists combating terrorists" in Syria, says US official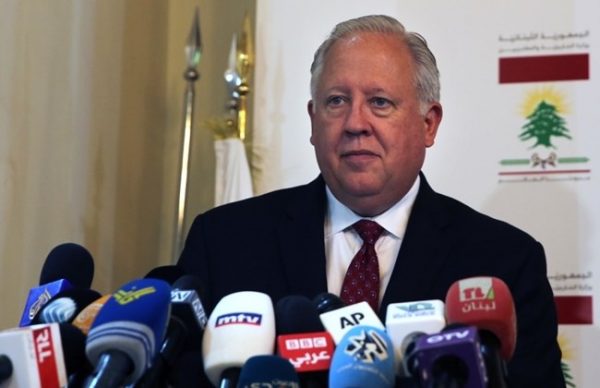 U.S. Undersecretary of State for Political Affairs Thomas A. Shannon Jr. said during an interview with the  local Lebanese newspaper Al-Joumhouria published Saturday that Hezbollah's involvement in the conflict in neighboring Syria has had grave repercussions on the group,
"They [Hezbollah gunmen ] are terrorists combating terrorists,"
He said that the party supports "the Syrian regime which is acting barbarically towards its own people and is primarily responsible for the [death] of thousands  of victims and the displacement of millions."
Shannon, who concluded a two-day visit to Lebanon Friday, said that the U.S. administration would not change its stance towards Hezbollah, nor would the sanctions imposed on the Lebanese group be reversed.
Washington considers Hezbollah a terror group, and, unlike Europe, does not distinguish between its political and military wings.
Shannon, however, hailed the Lebanese and Lebanon's banking sector and its Central Bank Governor Riad Salameh "for doing an excellent job… we are completely satisfied with what they have accomplished."
The U.S. official also praised the role played by the Lebanese Army in confronting ISIS along the country's northeastern border with Syria. "The Lebanese military is a distinguished ally and senior U.S. partner."
"We have been cooperative with the Army's needs and we will continue on this path."
Addressing  the power vaccuum at the helm of Lebanon's top Christian post, Shannon said that the presidential stalemate had a significant impact on the Cabinet, calling for a swift end to the political crisis.
"We believe it's time for the Lebanese to elect a president, but it's a purely domestic matter that the Lebanese and their institutions [have to deal with] as neither we [the U.S.], nor any foreign side, can do anything about."
He reiterated support to the Lebanese people and state, urging all factions to work on coming to a decisive solution and surpassing differences to elect a head of state.
The Lebanese parliament failed again last month  and for the 43rd time in a row to elect a president to replace Michel Suleiman whose term ended on May 25 , 2014.
As in the past sessions the parliament was unable to reach a quorum because the Iranian-backed Hezbollah militant group and its ally MP Michel Aoun's Change and Reform bloc MPs boycotted the session, because they could not reportedly guarantee Aoun's election as a president.
Amal Movement leader, Speaker Nabih Berri a key ally of Hezbollah postponed the election to September 7, 2016.