Aleppo's angel: A nurse's devotion to Syria's children
By NADIA KOUNANG
Malaika, a 29-year-old head nurse, holds Ali, a 2-day-old infant, as he struggles to take his final breaths. Born in eastern Aleppo, one of the hardest-hit cities in Syria's five-year civil war, Ali was born with chest issues that forced him to rely on an oxygen pump and an incubator in the neonatal unit at Aleppo Children's Hospital.
At 1:20 p.m.on July 23, a government airstrike scored a direct hit to the hospital. Dust and debris filled the room where 11 babies lay in incubators.
Several hours later, early July 24, a second airstrike hit. Staff members scrambled to save the infants and rushed them to a safer location in the basement, but Ali — already weak — lost his oxygen supply. Malaika and a doctor tried to perform manual CPR on Ali's fragile body but knew there was nothing they could do. Malaika held him as he died, struggling to breathe.
"It was intentional. It was a war crime."
Three more babies died from dust inhalation during the attacks. "I was crying. It was very painful," Malaika said through an interpreter.
"It was intentional. It was a war crime."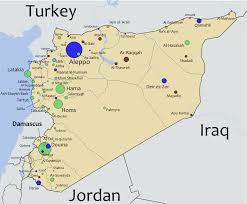 These were just two horrific days in a life now full of them. Malaika no longer goes home at the end of her workday. Her house was destroyed in one of countless airstrikes, so she sleeps at the hospital. Her entire extended family has fled to Turkey, and she is the only one left.
Her husband divorced her and took their two daughters to Marea, a town north of Aleppo that is inaccessible to those still in the city. He's a supporter of the regime of President Bashar al-Assad. He was angry that, as a nurse, she treated an injured rebel fighter.
Malaika is one of only a handful of health care workers still in the besieged city of Aleppo. The eastern part of the city was taken over by rebel groups in 2012.
Only 35 doctors are left to care for the 300,000 residents who remain.
Doctors on the brink
This week, 15 of the country's doctors sent a letter to the White House, pleading for help: "We do not need tears or sympathy or even prayers, we need your action. Prove that you are the friend of Syrians.
"Last month, there were 42 attacks on medical facilities in Syria, 15 of which were hospitals in which we work," they added. "Right now there is an attack on a medical facility every 17 hours. At this rate, our medical services in Aleppo could be completely destroyed in a month, leaving 300,000 people to die."
A senior White House official acknowledged receipt of the letter.
"The US has repeatedly condemned indiscriminate bombing of medical facilities by the Assad regime in Aleppo and elsewhere in Syria," the official said.
"These attacks are appalling and must cease," the official continued. "We commend the bravery of medical professionals across Syria who are working every day in perilous circumstances with minimal supplies to save lives."
The official said the US government is working with the United Nations and engaging with Russia to find a diplomatic approach to reducing the violence and allowing humanitarian assistance into the city.
Saturday, rebels finally broke through Aleppo's siege, beating back regime forces on the ground and breaking through the main blockade.
Malaika joined dozens of people who flooded the streets to celebrate. Then came another airstrike. She was hit by shrapnel as surrounding structures exploded and was taken to the hospital with two others, one of whom was a 6-year-old girl.
Ten people were injured, and two more were killed.
Malaika underwent an operation to remove the shrapnel and returned to work at Aleppo Children's Hospital the next day. The operation was unsuccessful, so two days later, she tried it again. All the while, she continued to work.
Malaika refuses to leave Aleppo despite the constant danger. "The children. I love those children. It's impossible," she said. "I love my country, and I love the children very much."
In Arabic, "Malaika" means "angel."
"I know there is a lot of danger," she said. "And we want to die here. I love my country, and I'm not leaving."
CNN