Berri : "We will be crazy if we don't elect a president by year end, Lebanon on verge of ruin"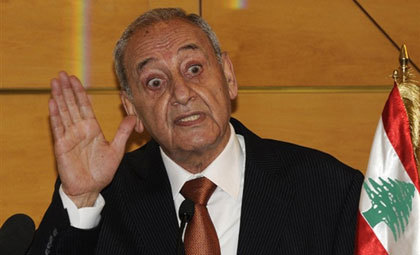 A day after the dialogue session that he hosted at his residence in Ain al Tinah failed to produce any solutions to Lebanon's political problems , speaker Nabih Berri sounded the alarm when he talked to al jamhouriah newspaper :
"We will be crazy if we don't elect a president by year end", he said and vowed to start working on the issue .
"I swear to God the country is on the verge of ruin and it will be disastrous if we don't do something before it is too late ".
"It is not only the presidency that is in trouble but the economy and the financial situation of the country are also in an extremely critical situation ", he added
But the presidential issue has been around for over 2 years and his main allies Hezbollah and Iran have been accused of being behind the impasse. Similarly the economy and financial situation are in deep trouble because Lebanon depends on tourism and investments by Arab Gulf investors .
There are very few tourists in Lebanon this year, reportedly because the main tourists of Lebanon come from the Arab Gulf countries and Hezbollah's threats and involvement in their internal affairs scared them away .
Asked how bad is the situation , he said the situation is terrible and the country can take no more but how can I convince everyone that the country is approaching the abyss"