Republicans denounce Trump as confrontation with Muslim parents of a slain soldier escalates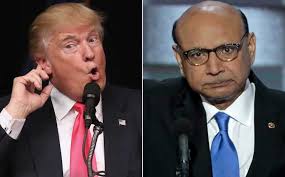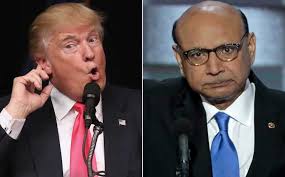 Donald Trump faced mounting criticism from leaders of his own party Sunday as a confrontation between the Republican nominee and the Muslim American parents of a soldier killed in Iraq continued to consume the presidential race.
Khizr and Ghazala Khan denounced Trump in ever more forceful terms, asserting that Trump's temperament and lack of empathy rendered him unfit for office, while Trump claimed that Khizr Khan "viciously attacked" him while speaking at the Democratic National Convention last week.
Khizr Khan also repeated his call for House Speaker Paul D. Ryan (R-Wis.) and Senate Majority Leader Mitch McConnell (R-Ky.) to repudiate Trump, saying they have a moral obligation to speak out against their party's standard-bearer.
In separate statements, Ryan and McConnell expressed support for the Khans and reiterated their opposition to Trump's proposed ban on Muslims, but neither mentioned Trump by name and neither abandoned his support for the Republican nominee.
The clash between the Khans and Trump has largely taken over the presidential race following both major party conventions and with 99 days before Election Day.
Whether the fight with the Khans will ultimately hurt Trump among voters remains an open question. Some of Trump's more controversial remarks, such as his attacks on a disabled reporter and a U.S.-born judge of Mexican descent, seem to have initially registered only to fade somewhat quickly.
For instance, Trump was roughly tied with Democrat Hillary Clinton in an average of polls before his saying that Judge Gonzalo Curiel's Mexican heritage made him unfit to rule in a lawsuit involving Trump. In the ensuing weeks, Trump fell behind Clinton by a few points, but he regained his standing not long afterward.
It's also possible that the controversy could help Trump, at least among those considering supporting him, if voters begin to see it as another example of elite-driven political correctness by the media and political establishment.
On Sunday, Khizr Khan said Trump disrespected his wife by insinuating that she wasn't allowed to speak at the convention because of the family's Muslim faith, and he called on Republican leaders and voters to reject the GOP nominee.
"I implore those patriotic Americans that would probably vote for Donald Trump in November, I appeal to them, not to vote for hatred, not to vote for fearmongering," Khan said on NBC's "Meet the Press."
In an op-ed published in The Washington Post, Ghazala Khan directly responded to Trump, saying that she was too distraught to speak at the convention and could barely control her emotions while walking on stage.
"Here is my answer to Donald Trump: Because without saying a thing, all the world, all America, felt my pain. I am a Gold Star mother. Whoever saw me felt me in their heart," she wrote, using a term for the parents of fallen members of the military.
Trump and his campaign, meanwhile, sought to redirect the focus to the origins of the Iraq War and fears about Islamic terrorism.
Trump first tweeted that "Captain Khan, killed 12 years ago, was a hero, but this is about RADICAL ISLAMIC TERROR and the weakness of our 'leaders' to eradicate it!"
And then: "I was viciously attacked by Mr. Khan at the Democratic Convention. Am I not allowed to respond? Hillary voted for the Iraq war, not me!"
When pressed on CNN about what terrorism has to do with the Khan family, Trump spokesman Jason Miller said the campaign is trying to talk about a "broader issue."
Trump's vice-presidential running mate, Indiana Gov. Mike Pence, whose son is in the Marines, said Capt. Humayun Khan died defending his country in the war on terror. He blamed Clinton and President Obama — who was an Illinois state senator when Khan died — for allowing the Middle East to be "overrun" by the Islamic State. Pence said proposals such as Trump's plan to bar immigrants from certain countries will help reduce military deaths.
"Donald Trump and I believe that Captain Humayun Khan is an American hero and his family, like all Gold Star families, should be cherished by every American," Pence said.
Late Sunday, Trump supporters, including longtime adviser Roger Stone, circulated unsubstantiated accusations from an anti-Islam website about Khizr Khan. Stone tweeted a link to a post that, among other things, accuses Khan of being a "Muslim Brotherhood agent who wants to advance sharia law.
Both Khans forcefully denounced terrorism Sunday, and Ghazala Khan said Trump is ignorant when it comes to understanding Muslims. "If he studied the real Islam and Koran, all the ideas he gets from terrorists would change, because terrorism is a different religion," she wrote.
Khan also wrote that Trump "doesn't know what the word sacrifice means" after the real-estate mogul said his hard work as a businessman and his employment of "tens of thousands" of people were sacrifices, in response to Khizr Khan's charge at the convention that Trump had sacrificed "nothing."
Some of Trump's supporters agreed. Sen. Kelly Ayotte (R-N.H.), whose husband is a military veteran, said, "I am appalled that Donald Trump would disparage [the Khans] and that he had the gall to compare his own sacrifices to those of a Gold Star family."
Former Florida governor Jeb Bush, who lost to Trump in the Republican presidential primary, lashed out at the businessman for suggesting that Ghazala Khan was not permitted to speak by her husband.
"This is so incredibly disrespectful of a family that endured the ultimate sacrifice for our country," Bush tweeted Sunday evening.
Speaking at a church in Cleveland on the third day of a post-convention bus tour, Clinton said Khizr Khan stood before his country to tell the story of his son, Capt. Khan, who was killed by a suicide car bomb at age 27, and was denigrated by Trump.
"Mr. Khan," she said, pausing, "paid the ultimate sacrifice in his family, didn't he? And what has he heard from Donald Trump? Nothing but insults, degrading comments about Muslims, a total misunderstanding of what made our country great."
Sen. Lindsey O. Graham (R-S.C.), who urged Republicans to walk away from Trump after the Curiel episode, said the Republican nominee's attack on the Khans is unprecedented.
"This is going to a place where we've never gone before, to push back against the families of the fallen. There used to be some things that were sacred in American politics — that you don't do — like criticizing the parents of a fallen soldier, even if they criticize you," Graham said. "If you're going to be leader of the free world, you have to be able to accept criticism. Mr. Trump can't."
Mike Coffman, a veteran and Republican congressman from Colorado who has not endorsed his party's nominee, said in a statement: "Having served in Iraq, I'm deeply offended when Donald Trump fails to honor the sacrifices of all of our brave soldiers who were lost in that war."
A campaign spokeswoman for Sen. Rob Portman (R-Ohio), who is locked in a tight re-election battle and has only tepidly supported Trump, said Portman does not agree with the Republican nominee and called Khan a hero.
This was not the first time Trump has made controversial comments about the U.S. military.
Trump said that the nation's armed forces are a "disaster" during a debate, in response to a question about military spending. He said Sen. John McCain (R-Ariz.), a former prisoner of war, was not a war hero because he was captured. And he has been attacking retired Marine Gen. John Allen, who spoke at the Democratic convention, for failing to defeat the Islamic State.
Trump also drew criticism Sunday when he appeared to be unfamiliar with Russia's actions regarding Ukraine and its 2014 annexation of Crimea.
"He's not going into Ukraine, okay," Trump said on ABC's "This Week" of Russian President Vladi­mir Putin. "He's not gonna go into Ukraine, all right? You can mark it down. You can put it down."
Trump then appeared to contradict himself when George Stephanopoulos, host of ABC's "This Week," responded that "he's already there, isn't he?"
Trump's comments were notable following his urging of the Russian government to meddle in the presidential election by finding tens of thousands of Clinton's emails. U.S. officials said there is strong evidence Russia was involved in a hack of emails and voice mails at the Democratic National Committee.
In a statement, Jake Sullivan, the chief policy adviser for Clinton's campaign, said that "this is scary stuff."
"What is he talking about?" Sullivan wrote. "Russia is already in Ukraine. Does he not know that? What else doesn't he know?"
WASHINGTON POST