Sanders urges supporters to rally behind Clinton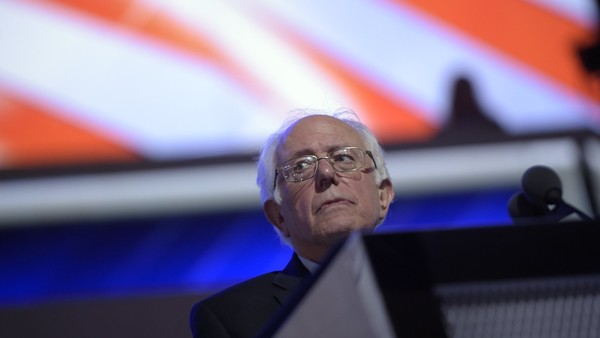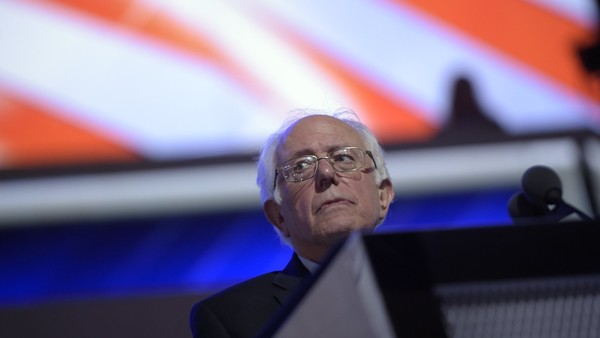 Bernie Sanders, the Vermont senator who lost a bitter fight for the Democratic presidential nomination, urged his supporters to back Hillary Clinton over Donald Trump, saying the choice was "not even close".
"Hillary Clinton will make a great president and I am proud to stand with her tonight," Mr Sanders said to a raucous standing ovation at the Democratic party convention in Philadelphia.
Earlier in the evening Mr Sanders' fans had booed any mention of Mrs Clinton and he had emailed and texted his supporters to stop the barracking, asking them to refrain from criticising his former rival "as a personal courtesy" to him.
Addressing the hall, Mr Sanders said: "We need leadership in this country which will improve the lives of working families, the children, the elderly, the sick and the poor. We need leadership which brings our people together and makes us stronger, not leadership which . . . divides us up."
"By these measures, any objective observer will conclude that . . . Hillary Clinton must become the next president of the United States. The choice is not even close."
Mr Sanders told delegates in the Wells Fargo arena, where Mrs Clinton will be formally crowned as the Democratic nominee, "we have begun a political revolution to transform America, and that revolution — our revolution — continues".
He applauded what he said was a coming together by his campaign and the Clinton team to produce "the most progressive platform" in the history of the party. "The Democratic party now calls for breaking up the major financial institutions on Wall Street and for passage of a 21st-century Glass-Steagall act," he said. "It also calls for strong opposition to job-killing trade agreements like the TPP [Trans-Pacific Partnership]".
Entering the arena to a long standing ovation and more than a minute of chants of "Bernie, Bernie", the senator whose supporters propelled him to within reach of beating Mrs Clinton thanked his fans for their support, while telling them that he understood their pain that his "revolution" had not delivered the nomination.
"I understand that many people here in this convention hall and around the country are disappointed about the final results," said Mr Sanders. "No one is more disappointed than I am. But to all of our supporters . . . I hope you take enormous pride in the historical accomplishments we have achieved."
In the same way Mr Trump upended the Republican race, Mr Sanders had stunned the Clinton campaign with his "Feel the Bern" movement to reduce poverty and remove corruption from American politics. His campaign was fuelled by small donations that underscored his support across the country.
"Election days come and go. But the struggle of the people to create a government which represents all of us and not just the 1 per cent — a government based on the principles of economic, social, racial and environmental justice — that struggle continues," said Mr Sanders. "And I look forward to being part of that struggle with you."
As Mr Sanders was speaking, Mr Trump made a play for Mr Sanders' aggrieved supporters. "Sad to watch Bernie Sanders abandon his revolution. We welcome all voters who want to fix our rigged system and bring back our jobs," he tweeted.
Mr Sanders stressed that the election was about "overturning Citizens United", a Supreme Court decision that allowed corporations to funnel unlimited amounts of money into presidential elections.
He urged his supporters not to sit out the election, telling them to "take a moment to think about the Supreme Court justices that Donald Trump would nominate and what that would mean to civil liberties, equal rights and the future of our country".
Mr Sanders spoke after a stream of Democrats had urged delegates supporting the Vermont senator to back Mrs Clinton in November to ensure that Mr Trump does not win the White House. In a joint appearance, Sarah Silverman, the comedian who supported Mr Sanders, and Al Franken, the Minnesota senator and former star of Saturday Night Live who had backed Mrs Clinton, urged the two wings of the Democratic party to come together.
"To the 'Bernie or bust' people . . . you're being ridiculous," Ms Silverman said to loud applause in the arena.
"On one side is a man who inherited a fortune from his father who kept it going by cheating people . . . and skipping out on his debts, a man who cares only for himself every minute of every day," Mrs Warren said. "On the other side is one of the toughest, smartest most tenacious people on this planet."
In a sign Mrs Clinton still faces a struggle to win over some of Mr Sanders' backers, Mrs Warren was booed as she offered her endorsement of the former secretary of state. "We trusted you!" some delegates shouted.
Earlier, Michelle Obama, the First Lady, urged delegates to rally behind the woman her husband Barack Obama beat for the Democratic nomination in 2008. In one of the best received speeches of the evening, she argued that Mrs Clinton would be the best president because she had fought for issues her whole life and never gave up on anything.
"When she didn't win the nomination eight years ago, she didn't get angry or get disillusioned. Hillary didn't pack up and go home. Because as a true public servant Hillary knows this is so much bigger than her own desires and disappointments," Mrs Obama said in what appeared to be a criticism of Mr Sanders' supporters.
"The day started off pretty bad and then only got worse when the Sanders' supporters started booing at every mention of Hillary Clinton," said Jim Manley, a former top Democratic congressional aide.
"But the First Lady was fantastic and Senator Sanders did exactly what he needed to do if he wanted to help unify the party so in the end the first day ended on a strong note."
Mr Sanders was preceded by Elizabeth Warren, the firebrand Massachusetts senator who along with her Vermont colleague leads the progressive wing of the Democratic party. "We are not going to be Donald Trump's hate-filled America, not now, now ever," said Mrs Warren, who has been effective in attacking Mr Trump.