Abbas accuses rabbis of calling for poisoning Palestinian water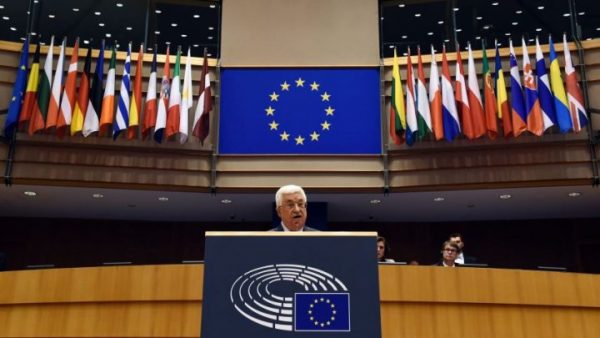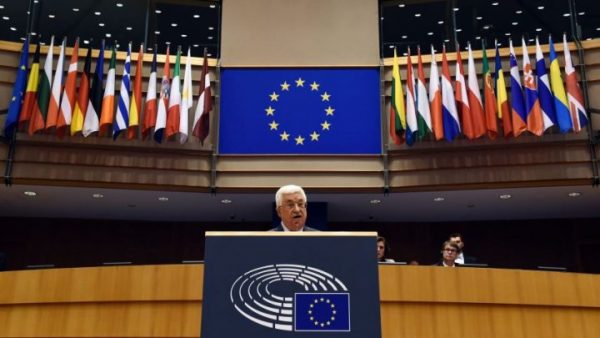 Palestinian President Mahmoud Abbas on Thursday accused Israeli rabbis of calling for the poisoning of Palestinian water, in what appeared to be an invocation of a widely debunked media report that recalled a medieval anti-Semitic libel.
Abbas's remarks did not appear on the official transcript issued by his office, suggesting he may have spoken off the cuff as he condemned Israeli actions against Palestinians amid stalled peace talks.
"Only a week ago, a number of rabbis in Israel announced, and made a clear announcement, demanding that their government poison the water to kill the Palestinians," Abbas said.
"Isn't that clear incitement to commit mass killings against the Palestinian people?"
Abbas, who received a standing ovation from EU lawmakers after his speech, gave no source for his information .
Massacres
Reports of an alleged rabbinical edict emerged on Sunday, when the Turkish state news agency Anadolu said that a "Rabbi Shlomo Mlma, chairman of the Council of Rabbis in the West Bank settlements", had issued an advisory to allow Jewish settlers to take such action.
The same day, the Palestinian Foreign Ministry, on its website, cited what it said was a water-poisoning call from a "Rabbi Mlmad" and demanded his arrest.
Reuters and other news outlets in Israel could not locate any rabbi named Shlomo Mlma or Mlmad, and there is no listed organisation called the Council of Rabbis in the West Bank.
Gulf News, in a report on Sunday, said a number of rabbis had issued the purported advisory. It attributed the allegation to Breaking the Silence, an Israeli organisation of veteran soldiers critical of the military's treatment of Palestinians.
A spokesman for Breaking the Silence told Reuters the group had not provided any such information.
For Jews, allegations of water poisoning strike a bitter chord. In the 14th century, as plague swept across Europe, false accusations that Jews were responsible for the disease by deliberately poisoning wells led to massacres of Jewish communities.
Prime Minister Netanyahu's Office said that Abbas' remarks have exposed "his true face." "Someone who is refusing to meet the president [of Israel] and Prime Minister Netanyahu for direct negotiations and someone who spreads a blood libel before the European parliament is falsely claiming that his hand is extended for peace," a statement from the PM's Office said.
"Israel is waiting for the day on which Abu Mazen stops spreading lies and engaging in incitement. Until then, Israel will continue to defend itself from the Palestinian incitement, which is motivating acts of terror."
Fascist tendencies
Speaking of recent comments made by Israeli politicians, Abbas noted in his speech at Brussels that even former Defense Minister Moshe Ya'alon and former Prime Minister Ehud Barak had warned of rising fascist tendencies in Israel.
"Israel has exploited negotiations since Oslo to set facts on the ground and build in the settlements," Abbas said. "Until today Israel conducts itself as a national above international law. If one country attacks another then the world should rise up but this doesn't happen when it comes to the Palestinians."
"Israel is experiencing a tendency toward violence and extremism and this is expressed in settler terrorism toward the Dawabshe family and in the case of the murder of Mohammed Abu Khdeir. This is in addition to the Israeli army's criminal conduct which carries out murderous operations against the Palestinians and holds itself above the law. All this has led senior Israelis such as [opposition leader Isaac] Herzog, the opposition chairman, former Defense Minister Moshe Ya'alon, former Prime Minister Ehud Barak, the current deputy chief of staff and senior journalists to speak about growing signs of fascism in Israeli society."
"Palestine, the homeland and the nation, in its history, legacy and identity, has experienced and still experiences a historical slaughter and pillage unprecedented in the 20th century, still carrying on in the 21st century, in front of the eyes and ears of the international community," Abbas said.
"You are our friends, help us," he said at the parliament, adding that "Israel has turned our country into an open-air prison."
Abbas said the occupation was only encouraging extremists and fomenting terrorism.
To the applause of lawmakers he said: "Why is international law not being applied in the case of Israel?"
The president also referred to Israel's accusations of Palestinian incitement against it, saying that "we are willing to discuss the issue of incitement and the establishment of a tripartite commission of Israelis, Palestinians and the Unites States, and here I'm willing to add the European Union as a mediator and arbiter between us."
Abbas told the European lawmakers that the Palestinians "oppose any suggestion of temporary borders or an interim agreement because it's a waste of time that doesn't lead anywhere."
"We favor a two-state solution based on the 1967 borders with East Jerusalem as the capital, and the solution will be based on the Arab Peace Initiative that was that was approved in 2002 with no changes to it," he added.
Abbas said that the Palestinians expect the international efforts to revive the Israeli-Palestinian peace process that was manifested in a Paris conference earlier this month "will mature into an international conference."
Such a conference, he said, must "set a schedule for negotiations and the implementation of decisions, and constitute a mechanism for the implementation and monitoring of the decisions, as happened in the negotiations with Iran."
French President Francois Hollande, he added, told him that France is determined to convene such a conference before the end of the year.
Earlier on Thursday, Abbas turned down an offer by European Parliament President Martin Schulz to meet with President Reuven Rivlin who was in Brussels following his address to the parliament a day earlier. Abbas' office responded that no meeting with Rivlin had been planned.
FRANCE24