Hezbollah moving 'tons of cocaine', has 'most sophisticated money laundering schemes'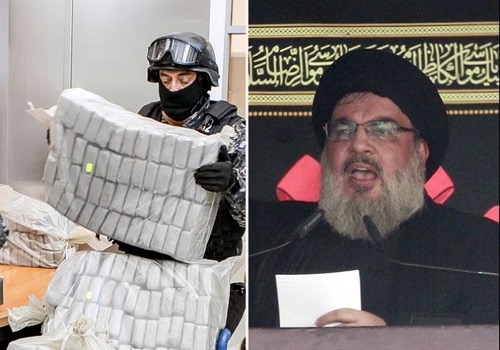 Hezbollah's finance operations are thriving across Latin America months after the Drug Enforcement Administration linked the Iran-backed Lebanese militant group to drug cartels in the region, U.S. lawmakers were told this week.
Former DEA operations chief Michael Braun said Hezbollah is "moving [multiple] tons of cocaine" from South America to Europe and has developed "the most sophisticated money laundering scheme or schemes that we have ever witnessed."
The agency announced in February that it had arrested several Hezbollah operatives accused of working with a major Colombian drug cartel to traffic drugs to Europe and launder money through Lebanon. Those arrests come against a backdrop of rising fears in Washington about smuggling connections between Middle East terrorist groups and the Western Hemisphere.
Hezbollah has "metastasized into a hydra with international connections that the likes of [the Islamic State] and groups like al Qaeda could only hope to have," Mr. Braun told the House Financial Services Committee.
Adding to concerns about security threats from Central and South America, intelligence reports have also tracked how smugglers managed to sneak illegal immigrants from the Middle Eastern and South Asia straight to the doorstep of the U.S. — including helping one Afghan who U.S. authorities say was part of an attack plot in North America.
Immigration officials identified at least a dozen Middle Eastern men smuggled into the Western Hemisphere by a Brazilian-based network that connected them with Mexicans who guided them to the U.S. border, according to internal government documents reviewed this month by The Washington Times.
Those smuggled included Palestinians, Pakistanis and the Afghan man who Homeland Security officials said had family ties to the Taliban and was "involved in a plot to conduct an attack in the U.S. and/or Canada."
Concerns about Hezbollah's activities in Latin America have surged the DEA's announcement in February that top operatives from the group's so-called Business Affairs Component, or BAC, "have established business relationships" with South American drug cartels such as the Colombia-based Oficina de Envigado, a crime syndicate "responsible for supplying large quantities of cocaine to the European and United States drug markets."
The DEA said several of the BAC's Europe-based operatives had been arrested on charges of trafficking drugs and laundering money from South America to purchase weapons and finance the group's military activities in Syria. The agency described an intricate network of money couriers who collect and transport millions of euros in drug proceeds from Europe to the Middle East.
"The currency is then paid in Colombia to drug traffickers," it said, adding that "a large portion of the drug proceeds was found to transit through Lebanon, and a significant percentage of these proceeds are benefiting terrorist organizations, namely Hezbollah."
The DEA said seven countries, including France, Germany, Italy and Belgium, were involved in an ongoing investigation. But few details were provided about how many suspects had been apprehended or where they are being held.
Officials said the most significant arrest was of Mohamad Noureddine, whom the DEA accused of being a Lebanese money launderer for Hezbollah. A week prior to the announcement, the Treasury Department had imposed sanctions freezing any U.S. accounts tied to Mr. Noureddine as well as to Hamdi Zaher El Dine, another suspected money launderer.
Decades of activity
U.S. officials have long been wary of Hezbollah, a Shiite Islamic group.
While it has a mainstream political arm in Lebanon, officials have linked the group to terrorist attacks in various corners of the world over the past 25 years — the vast majority targeting Israel. The State Department listed Hezbollah as a terrorist organization in the late 1990s and has characterized Iran as a leading state sponsor of terrorism largely on grounds that it supplies the group with weapons.
But the full scope of Hezbollah's operations has long been a subject of debate in Washington. The DEA's recent claims followed years of speculation about Iranian activities in Latin America.
Responding to pressure from Republican lawmakers, the State Department conducted a formal probe into the matter in 2013 and issued a report claiming that Iran was not supporting any active terrorist cells in the region.
While the report said the number of Iranian officials operating in Latin America had increased, the report concluded Tehran had far less influence in Latin America than critics claimed.
But former officials like Mr. Braun, who retired as DEA chief of operations in 2008, say Hezbollah is extremely active in the region.
President Obama signed the "Hizballah International Financing Prevention Act" last year, authorizing a range of actions, including sanctions, to block Hezbollah's ability to fund itself.
Emanuele Ottolenghi, a senior fellow on Iran and illicit finance with the Foundation for Defense of Democracies, told lawmakers at Wednesday's hearing that Congress and the administration should use the law to "aggressively focus" on Hezbollah's presence in Latin America.
Brazilian connection
Mr. Ottolenghi pointed to the group's "vast network of support," particularly in Brazil, which is home to some 7 million people of Lebanese descent, including an estimated 1 million Shiite Muslims.
"Hezbollah generates loyalty among the local Shiite communities by managing their religious and educational structures," Mr. Ottolenghi told the hearing. "It then leverages loyalty to solicit funds and use business connections to its own advantage, including, critically, to facilitate its interactions with organized crime."
He cited a 2014 report by the Brazilian newspaper O Globo that outlined a connection between Hezbollah and the Primeiro Comando da Capital, a Sao Paulo-based prison gang, which is widely regarded to be among the country's biggest exporters of cocaine.
"Drug cartels need middlemen, as well as commodity and service providers, for the supply line and delivery to cartels in Colombia, Venezuela and Central America," Mr. Ottolenghi said. "They need assistance facilitating transit to West Africa before drugs cross the Sahara on their way to Western Europe and enabling the producers, refiners and cartels to launder their revenues and acquire the accessories for the trade in the process."
WASHINGTON TIMES