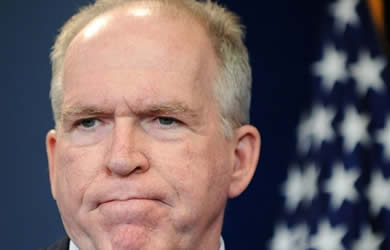 CIA chief John Brennan said on Sunday he expects 28 classified pages of a U.S. congressional report into the Sept. 11, 2001 attacks on the United States to be published, absolving Saudi Arabia of any responsibility.
"I think the 28 pages will be published and I support their publication and everyone will see the evidence that the Saudi government had nothing to do with it," Brennan said in an interview with Saudi-owned Arabiya TV. His comments were dubbed into Arabic.
"Subsequently the Sep. 11 commission looked very thoroughly at these allegations of Saudi involvement, Saudi government involvement and their finding, their conclusion was that there was no evidence to indicate that the Saudi government as an institution or Saudi senior officials individually had supported Sep. 11 attacks," he said.
The withheld section of the 2002 report is central to a dispute over whether Americans should be able to sue the Saudi government, a key U.S. ally, for damages.
The U.S. Senate passed a bill on May 17 allowing the families of Sept. 11 victims to do so, setting up a potential showdown with the White House, which has threatened a veto.
Saudi Arabia denies providing any support for the 19 hijackers – most of whom were Saudi citizens – who killed nearly 3,000 people in the Sept. 11 attacks. Riyadh strongly objects to the bill.
It has said it might sell up to $750 billion in U.S. securities and other American assets if it became law.
Brennan called the 28-page section merely a "preliminary review."
"It was found later, according to the results of the report, that there was no link between the Saudi government as a state or as an institution or even senior Saudi officials to the Sept. 11 attacks," he added.
The Office of the U.S. Director of National Intelligence is reviewing the material to see whether it can be declassified.
Former U.S. Senator Bob Graham, who co-chaired the congressional inquiry into the attacks, said in April that the White House will likely make a decision by June on whether it would release the classified pages.
Huffington Post