Assad propagandist Shaaban: No moderate opposition and no one is starving in Syria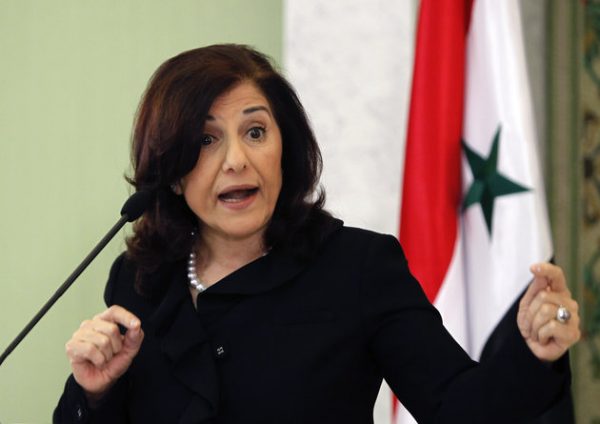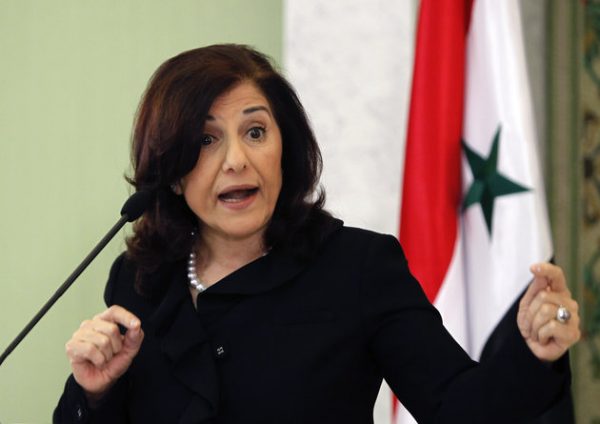 A panel discussion that had been billed as an effort to create a global alliance to defeat the so-called Islamic State spiraled downward Thursday into a tense two-and-a-half hour event dominated by a top Syrian official who has been sanctioned by the U.S. government. She insisted that her country's brutal crackdown on its own people is just part of the war on terrorism.
"There is no such thing as moderate opposition," Bouthaina Shaaban, spokeswoman for Syrian President Bashar Assad, said during the event hosted by an obscure group called the Global Alliance for Terminating ISIS/al-Qaeda (GAFTA).
In a lengthy pre-recorded speech, which was aired at the National Press Club event, Shaaban blasted Turkey, Saudi Arabia and Western countries for backing Syrian opposition fighters in her country's civil war. She accused them of directly aiding both the Islamic State, also known as ISIS, and Jabhat al-Nusra, an al-Qaeda offshoot.
During a subsequent question-and-answer session, Shaaban sparred with reporters via Skype, dismissing accusations that the Assad regime had blocked humanitarian groups from delivering food to besieged areas of Syria and had aided ISIS by releasing its members from prison and purchasing oil from the terrorist group.
"It is a very fertile land. Nobody is starving in Daraya," Shaaban said, despite well-documented reports of the Assad regime's "surrender or starve" tactics in areas like Daraya and Madaya.
In 2011, the U.S. sanctioned Shaaban, along with Assad and a handful of other regime officials, in response to the Syrian government's violent repression of its people. The sanctions froze any assets the officials had in the U.S. and prohibitedAmericans from providing "financial, material, or technological support" to them.
It is unclear whether GAFTA, a Florida-based nonprofit, violated the sanctions by hosting Shaaban electronically. Ghassan Mansour, GAFTA's treasurer, claimed that the group did not know about the sanctions until the day before the event.
A Treasury spokeswoman declined to comment on the specific case, only vaguely suggesting that the arrangement could be problematic. "Transactions with designated persons are generally prohibited," she told The Huffington Post.
GAFTA founder Ahmad Maki Kubba, speaking at the event, defended the invitation to Shaaban as part of an effort to hear from all parties involved in the fight against ISIS and claimed that the group has no allegiance to either side. But the Thursday discussion was decidedly one-sided, and there are indications that GAFTA itself is sympathetic to Assad and his allies.
The organization's Facebook page contains numerous news stories that frame the Assad regime and its ally Russia in a flattering light. Mansour himself was previously accused by the U.S. Department of Justice of participating in a money-laundering operation to aid the Lebanese militia group Hezbollah, which has fought on behalf of Assad in Syria. Mansour denies the 2011 allegation.
"We are not associated with [Shaaban] or anybody," he told HuffPost in a phone interview. "We're trying to fight an evil. Is there sanctions against that?"
In the lead-up to the panel discussion, critics of the Assad regime accused GAFTA of providing a propaganda platform for a top-level Syrian official in violation of the spirit of the sanctions, if not the law itself.
"The point of sanctioning someone is to change their behavior, isolate them and force them to reconsider the actions they were taking. This is not in line with that," one House Republican aide said of inviting Shaaban.
Mansour said his group has reached out to members of Congress but has had little luck securing meetings in Washington.
Others accused GAFTA of undermining the United Nations-led peace process by giving Assad's spokeswoman a direct line to a U.S. audience. "She is regularly the one who speaks for the regime," said Joseph Bahout, a visiting fellow at the Carnegie Endowment for International Peace. "She's been propagandizing, denying the use of chemical weapons, denying massacres."
Bahout rejected GAFTA's argument that hearing from the Syrian regime at Thursday's event was part of an effort to resolve the civil war.
"I'm sorry to be blunt, but this is the classical, usual bullshit used every time someone is trying to open a channel with the regime. If you want to negotiate with the regime, there are proper channels in Geneva," Bahout said, referring to the U.N.-led talks.
The Syrian American Council, a U.S.-based group that has lobbied for more support for the Syrian opposition, said that it had pushed the National Press Club to remove Shaaban from the event, but as of Wednesday evening, had not heard back from Bill McCarren, executive director of the club. McCarren also did not respond to a request for comment from HuffPost.
"This is supposed to be about combating ISIS, and the Assad regime is directly responsible for not only fueling the rise of ISIS, but for supporting it financially through lucrative oil deals," said Mohammed Ghanem, director of government relations for the Syrian American Council. "It's unacceptable for a prestigious venue such as the National Press Club to be turned into a platform to spew propaganda."
Huffington Post