Nasrallah accuses rivals of conspiring against Hezbollah in support of Israel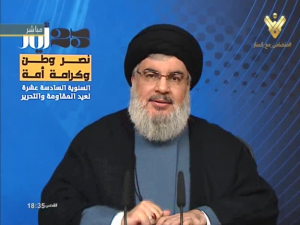 In a speech marking the 16th anniversary of the liberation of south Lebanon from Israel, Hezbollah chief Hassan Nasrallah stressed Wednesday that the axis of resistance will go ahead with securing achievements in several regions including Syria and Iraq, noting that the end of the Takfiri group, ISIL, is near.
He also reiterated the controversial "army-people-resistance formula " will remain "a source of strength for the country," and criticized rival political parties who are not in favor of an electoral law based on the proportional representation system.
"The army-people-resistance equation will remain a source of strength for the country in this era of Arab inaction and global support for Israel," Nasrallah underlined in his televised speech that was broadcast via video link.
"Some want the Lebanese to forget Israel's barbarity and terrorism and on the Liberation and Resistance Day we must remind everyone of that. We must remind everyone that Israel is the main and real enemy that is seeking to usurp our resources and that it is the biggest threat for our country and the region, although some parties are seeking to turn it into a friend and ally," he said.
"Our strength in Lebanon is being targeted and the entire axis of resistance in this nation is being targeted. Some do not want the army to get stronger and they are even taking advantage of individual incidents to practice sectarian incitement in order to tear our people apart," Nasrallah warned, noting that "everyone must be concerned with preserving the elements of strength."
Accusing some parties of "conspiring" against Hezbollah in Lebanon, Nasrallah added: "Let some in Lebanon stop conspiring over and under the table against the resistance, the army and the people, but especially against the resistance."
He also reiterated that "we have land that is still under occupation – the Shebaa Farms, the Kfarshouba Hills and the Ghajar village – and we have captives and missing people whose families are still waiting for them to return."
Addressing the Palestinian people, Hezbollah's chief said : "Beware of those who are trying to take advantage of the current ambiguities in the region in order to turn Israel into a friend and ally. Beware and do not count on those who have let you down for 70 years."
"You won't receive any support or good things from them and your only salvation lies in your unity and perseverance," he said, referring to Arab Gulf countries.
"The axis of resistance will not be defeated in the ongoing battle in the region. It will emerge victorious and the banner of Palestine will be raised again. The only conflict in the region will be over the Palestinian cause," vowed the Iranian backed leader .
Turning to Lebanon's domestic affairs, Hezbollah's chief emphasized that his party does not support the 1960 electoral law under which the country's last parliamentary elections were held in 2009.
"We want to replace it with a modern and correct electoral law," he said.
Citing the results of the municipal polls, Nasrallah added: "We and the AMAL Movement will lose parliamentary seats under a law based on proportional representation and yet we are demanding such a law."
"What is better? The Shiite duo or unilateralism? Under a law based on proportional representation, a third bloc might emerge from the Shiite regions, while you are rejecting proportional representation because you are insisting on monopolization and unilateralism in your sects and regions," Nasrallah added, mainly addressing Future Movement and the Progressive Socialist Party which are opposed to the law.
"Proportional representation does not eliminate anyone. We are calling for proportional representation but if the term of the current parliament expires, we're with holding the elections under any law," he announced possible reference to the 1960 law .
As for the country's presidential crisis, Nasrallah called on rival parties to "engage in dialogue and negotiate" with Free Patriotic Movement founder MP Michel Aoun.
"You must not turn your back to others and accuse them of obstructing the presidential vote," he added.
A Huge liability
Hezbollah, which was credited with liberating Lebanese territories from Israel in 2000 was a very popular organization in Lebanon and throughout the Arab world. But according to analysts ever since the Lebanese territories were liberated Hezbollah has become a huge liability for Lebanon. In 2005 former Lebanese PM Rafik Hariri was assassinated and 5 Hezbollah members were accused of being behind his murder and are being tried by the Special Tribunal for Lebanon in absentia because Hezbollah reused to hand them over to the court. In 2006 Hezbollah kidnapped 3 Israeli soldiers which triggered a war with Israel that devastated Lebanon. Soon after the war ended Hezbollah tried to use its arms to bring down the government of former PM Fouad Siniora. In 2008 Hezbollah pointed its guns against the Lebanese people when it occupied more than half of Beirut and tried but failed to occupy Mt Lebanon . In 2011 it brought down the government of former PM Saad Hariri and reportedly used its arms to force progressive socialist party leader MP Walid Jumblatt and his parliamentary bloc to vote for their candidate Nagib Mikati as the new premier . Hezbollah's current support for the Syrian regime in its brutal crackdown against the pro democracy uprising is another main concern for the Lebanese people, analysts say.
Ever since the term of president Michel Suleiman ended in May 2014 Lebanon has been without a president. Hezbollah and its backer Iran are being blamed for the presidential vacuum.
In February Saudi Arabia suspended a $4 billion grant for the Lebanese army and security forces because of Hezbollah's attacks against the kingdom and for interfering in the internal affairs of neighboring countries . This was followed by branding Hezbollah a terrorist organization by the Saudi-led Gulf Cooperation Council (GCC) and the Arab League. All the Gulf countries have since issued travel advisories against travel to Lebanon and started deporting Lebanese expats and their families.