Friends, relatives of Nizar Zakka say U.S. has more obligation to help free him from Iran
A nonprofit organization headed by a Lebanese citizen held prisoner in Iran received grants totaling $730,000 from the U.S. government for projects in the Middle East, The Associated Press has learned.
Nizar Zakka, 49, a technology expert and advocate for Internet freedom, was arrested in Tehran in September after being invited by the Iranian government to attend a conference there. Although no charges have been announced, Iranian media has accused him of being an American spy, allegations vigorously rejected by his family and associates.
Zakka, who lives in Washington and holds resident status in the U.S., leads the Arab ICT Organization, or IJMA3, an industry consortium from 13 countries that advocates for information technology in the region.
 It is not clear from records obtained by the AP if any IJMA3 work involved Iran, but it is active elsewhere in the region. The organization has trained women about social media and worked on developing small business in Lebanon. According to Zakka's Lebanese lawyer, the U.S. government is among many donors to the organization.
The U.S. State Department and the U.S. Agency for International Development annually award tens of millions of dollars to various groups to promote democratic principles in the Middle East and aid civic organizations.
Zakka's family and his supporters are pressing the U.S. government to become more active in trying to obtain his release, arguing that his arrest was due to his ties to America.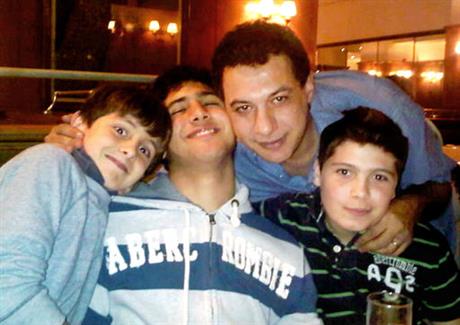 Supporters have written Secretary of State John Kerry stating Zakka travelled to Iran "with the knowledge and approval of the U.S. State Department, and his trip was funded by grants" from it.
Those assertions could not be verified by the AP and his friends say they can't obtain copies of the contract from the State Department due to federal regulations.
"Nizar is a man without a country when it comes to consular assistance," the April 18 letter to Kerry reads. "We believe that the State Department has a moral obligation to help Nizar in his time of need."
Relations between Iran and the U.S. are fraught even after the recent nuclear deal and a prisoner swap in January that freed Washington Post correspondent Jason Rezaian and three other Iranian-Americans.
At least two Iranian-Americans are imprisoned in the Islamic Republic, Iranian-American businessman Siamak Namazi and his 80-year-old father Baquer Namazi. Also unaccounted for is former FBI agent Robert Levinson, who vanished in Iran in 2007 while on an unauthorized CIA mission.
The State Department warns Americans planning to travel to Iran that the country has a record of "unjustly" holding U.S. citizens on espionage or other charges.
In April, State Department spokesman John Kirby said U.S. officials are concerned about Zakka. But officials also argue that because he is Lebanese, Lebanon must take the lead in handling his case.
"U.S. lawful permanent residents are not U.S. passport holders and must travel on the passport of their nationality," Kirby said. "The Immigration and Nationality Act prevents us from providing consular assistance to non-U.S. citizens."
On Wednesday, U.S. officials clarified they could offer consular assistance, but could not talk about what they might be providing.
Zakka disappeared Sept. 18 during his fifth trip to the country. He had been invited to attend a conference at which President Hassan Rouhani spoke of providing more economic opportunities for women and sustainable development.
Last seen taking a taxi to the airport to fly to Beirut, Zakka never boarded the flight, said Lebanese lawyer Antoine Abou Dib.
On Nov. 3, Iranian state television aired a report saying he was in custody and calling him a spy with "deep links" with U.S. intelligence services. It was the first official word on his whereabouts.
State TV also showed what it described as a damning photo of Zakka and three other men in army-style uniforms, two with flags and two with rifles on their shoulders. But that turned out to be from a homecoming event at Zakka's prep school, the Riverside Military Academy in Georgia, according to the school's president.
It's unclear what prompted Iranian authorities to detain Zakka. Iran's mission to the United Nations did not respond to a request for comment about Zakka while calls to officials in Iran's judiciary were not returned.
Zakka's organization has described its work in an IRS filing as promoting "Internet freedom programming" in the Middle East. Nearly 40 percent of Iran's 80 million people can access the Internet, though the U.S.-based watchdog Freedom House describes web access as "not free" due to censorship and filtering.
U.S. records examined by the AP show that since 2009, Zakka's IJMA3 organization has received at least $730,000 in contracts and grants from both the State Department and USAID, the lead American government agency fighting poverty and promoting democracy across the world.
The largest, for just over $600,000, was from USAID for as part of a project known as "Women in Charge." It included work on the "development of a secure web portal and administration of Social Media Change trainings." Another worth some $130,000 involved building the "capacity of 16 civil society groups in information security and advocacy fundamentals."
IJMA3 also worked on another $4.5-million USAID project in Lebanon to aid small businesses that began in 2008, though the agency said it discontinued its partnership with the group in part over "chronic delays … and weak results." It wasn't immediately clear if IJMA3 was paid for that work.
In April, Lebanon's Foreign Ministry said it helped Zakka's wife arrange travel to Iran to visit her husband, conducted one authorized visit by its diplomats with Zakka and sent Iran a series of diplomatic notes on his detention.
Neither American nor Lebanese officials publicly have acknowledged Zakka's work with the U.S. government.
David Ramadan, a former Virginia state legislator who co-founded a group called Friends of Nizar Zakka, said Zakka's work means the American government should be doing more to free him. He said, without elaborating, that Zakka was "there on the Department of State's dime and blessing."
"It's our opinion that the United States has both the moral and legal obligation to get him out of Iran, even though he is not a U.S. citizen," Ramadan said. While Lebanese by birth, "Nizar is an American in heart, an American in soul," he said.
ASSOCIATED PRESS