Hariri, Hollande discuss local, regional affairs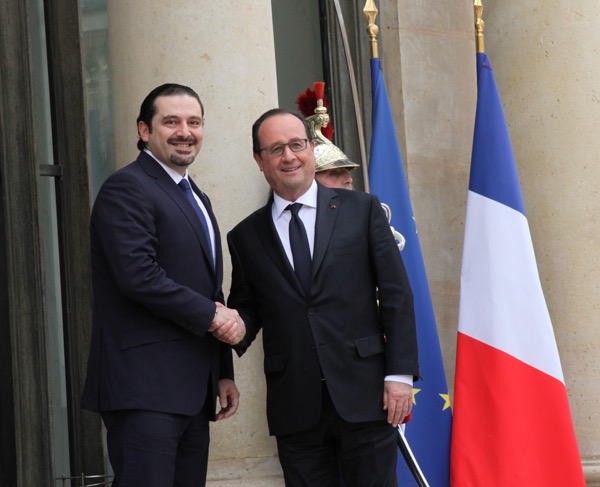 Former Lebanese PM and Future Movement leader MP Saad Hariri held talks on Tuesday with French President Francois Hollande in Paris to discuss the latest local and regional development, Hariri's press office stated.
According to media reports the talks focused on the presidential vacuum in Lebanon and the Saudi grant to supply the army with French weapons.
"The meeting has a particular importance because the French president is keen to accomplish a breakthrough through his style of diplomacy," sources close to Hariri told al-Joumhouria newspaper.
In April, Hariri made a similar effort to solve Lebanon's stalemate when he met with Russian President Vladimir Putin in Russia. Discussions tackled ways to end the presidential void and elect a new president.
"The halted Saudi grant to supply the Lebanese army with French weapons will be discussed as well," said the sources.
They pointed out to French efforts that succeeded in securing a Saudi approval to manufacture the weapons promised for Lebanon, and to keep them in French warehouses until determining the point of use, instead of transporting them indefinitely to Saudi Arabia.
Saudi Arabia suspended a $4-billion military and security forces funding program for Beirut in response to what it said were "hostile" positions linked to Hezbollah, and for Lebanon's failure to join other Arab nations in condemning attacks on Saudi diplomatic missions in Iran earlier this year.
The French arms were to be delivered to Saudi Arabia after the grant was suspended .
The regional developments and the repercussions of the Syrian crisis on Lebanon will also be addressed in the Hariri-Hollande talks in addition to other security, economic, regional and international issues.
Hariri flew from Istanbul to Paris on Saturday after attending the wedding ceremony of the daughter of Turkish President Recep Tayyip Erdogan.
No French conference on Lebanon

French Ambassador to Lebanon Emmanuel Bonne denied on Tuesday media reports claiming that Paris was planning on holding an international conference to resolve Lebanon's political crisis, reported LBCI television.
He told the station that a "misunderstanding" had occurred over the issue.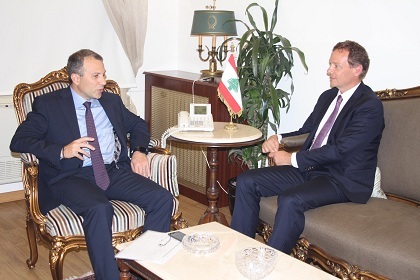 "The French foreign minister will visit Lebanon on May 27 for talks with all Lebanese political parties and authorities with the aim of preparing for an international conference to resolve the constitutional and political crises," Bonne was quoted as saying on Monday after meeting with Foreign Minister Gebran Bassil.
Describing French FM Jean-Marc Ayrault's upcoming visit as "very important," Bonne said he reminded Bassil that French President Francois Hollande's trip to Lebanon in April had involved a call for "reaching a political understanding that would lead to the election of a president, the formation of a national unity government and the election of a truly representative parliament."
"We want to push the international community to act and we would then see what shape and format would be most appropriate to hold this conference," the ambassador added.
The Lebanese parliament failed again earlier this month and for the 39th time in a row to elect a president to replace Michel Suleiman whose term ended on May 25 , 2014.
As in the past sessions the parliament was unable to reach a quorum because the Iranian-backed Hezbollah militant group and its ally MP Michel Aoun's Change and Reform bloc MPs boycotted the session, because they could not reportedly guarantee Aoun's election as a president.
Speaker Nabih Berri a key ally of Hezbollah postponed the election to June 2.
MTV reported that only 41 lawmakers attended the session while 85 MPs are need for quorum to be met.