ISIS kills 20 pro Syrian regime forces in Deir Ezzor, occupies "Assad" hospital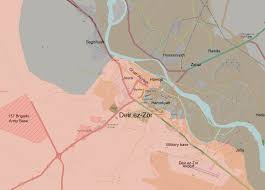 The Islamic State militant group killed 20 pro-government forces and allies Saturday in an attack in Deir Ezzor, a key, embattled regime-held enclave in eastern Syria, the British-based Syrian Observatory for Human Rights said.
In the assault, extremists attacked al-Assad Hospital, sparking clashes in which six militants also were killed, Rami Abdel Rahman, director of the human rights group, said.
Some 200,000 civilians are estimated to be still living in Deir Ezzor's government-controlled neighborhoods. It was not clear whether civilians were killed or injured as well in Saturday's attack.
The attack comes as the regime's grip on Deir Ezzor becomes ever more precarious. Once a hub of Syria's oil industry, the city sits on the banks of the Euphrates River, roughly 280 miles northeast of Damascus.
Soon after the start of the Syrian civil war in 2011, it became a hotly contested city; government forces and opposition fighters have vied for control with fluctuating degrees of success.
The Islamic State group, also known as ISIS, has been laying siege to Deir Ezzor since March 2014, and in recent months, the organization has wrested control of strategic districts, such as al-Bgheliyeh neighborhood in January. The Syrian government still controls the military airport, while Russia, an ally of the Syrian regime, has lately shifted its air campaign in Syria to focus on the city.
Although it was ISIS that launched the assault on the hospital Saturday, the Syrian regime is also notorious for targeting hospitals in its military campaigns — frequently and deliberately, observers suggest.
In April, 58 civilians, including both medical staff and patients, were killed in a strike on al-Quds hospital in Aleppo. According to the nongovernmental monitoring group Human Rights Watch, no militarily strategic targets were near the hospital. The U.S. State Department blamed Syrian regime forces for the attack, while the Russian government denied any responsibility.
The attack Saturday, along with numerous others elsewhere in Syria in past weeks, followed the recent de facto collapse of Syrian peace talks in Geneva that were blamed in part on the government's continued military campaign.
The High Negotiations Committee, the main opposition coalition, said April 18 it was suspending talks "in order to express their own displeasure and concern on the humanitarian situation degradation and on the problems related to the cessation of hostilities," said Staffan de Mistura, the United Nations special envoy for the Syrian crisis.
IBT