Michel Temer's Lebanese homeland fetes his success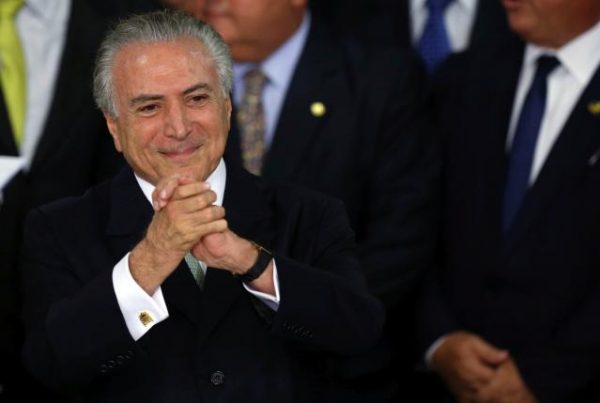 In his ancestral village in Lebanon, Michel Temer's rise to power in Brazil is a source of both pride and amusement in a country with no president of its own due to political deadlock.
Near the entrance to Btaaboura in northern Lebanon, a street sign carries Temer's name with his former rank of Brazilian vice president.
But now that Dilma Rousseff has ceded power to Temer after the Brazilian Senate voted overwhelmingly to suspend her for six months to face impeachment, Btaaboura is preparing to change the sign.
"It will be replaced on Friday. It will read 'President Michel Temer Street'," beamed municipality chief Bassam Barbar.
"We celebrate his promotion with all our heart and we are very proud of him," he told AFP.
In a small garden, someone has hoisted a flag of Lebanon and one of Brazil in honour of the son of Lebanese migrants, who has visited Btaaboura twice, in 1997 and again in 2011.
In the village his sudden promotion from vice president to acting president of Brazil is on everyone's lips.
And across Lebanon people are joking: "A Lebanese man is leading Brazil, and yet we've had no president for two years".
Deep political divisions have left Lebanon without a president since May 2014 when the mandate of Michel Sleiman expired, and parliament has extended its own mandate twice since 2009.
"I hope that now they (Lebanese political leaders) will be ashamed," said Barbar.
– 'We liked him' –
The country's Christian, Sunni, Shiite and Druze cannot agree on a candidate and parliament has met time and again but failed to break the impasse.
The Temer ancestral family home lies in the midst of a thick olive grove.
His father lived here but the house is now abandoned and in ruins.
Lebanon and Brazil have strong bonds.
The Lebanese began emigrating to Brazil and other South American countries in the 19th century with more departures during the 1979-1990 civil war.
Many are now settled in Rio de Janeiro and in Sao Paolo.
According to a source at the Lebanese foreign ministry there are six to seven million Brazilians of Lebanese origin.
Temer's cousin Nizar remembers the first time they met.
"It was in 1997 when he was speaker of parliament. We didn't know him then," said Nizar Temer, an engineer now in his 60s.
"He came a second time in 2011 to mark Lebanese independence day. We liked him and he liked us," he said.
But Nizar is perplexed.
What if president-elect Temer were to return to Lebanon. "Who would greet him?" he said.
"We don't have a president. They have one but Lebanon doesn't."
During one of his two visits to Btaaboura, Temer insisted on visiting the ruins of the family home, where only a few stone walls still stand.
"He was very emotional when he saw a portrait of his father in the living room," said Nizar.
"He went down on his knees and took a fistful of earth that he then put on his head," he said.
Nizar said he had a message for his now famous cousin.
"I am proud of you cousin. I hope you will visit again."
DAILY MAIL